Breville Smart Air Fryer Oven Cookbook: All the Benefits of These Appliances, the Most Effective Tips to Use It and 250 Easy-To-Prepare Recipes for Yo (Hardcover)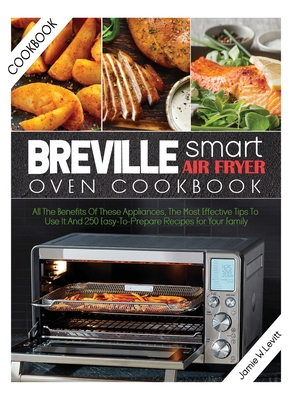 $37.15
Email or call for price
Description
---
Have you recently resolved to be healthier, or do you want to add a little diversity and excitement to your already healthy dietary lifestyle? If yes, then keep reading
The desire to follow a healthy but varied diet is one of the main reasons culinary enthusiasts are flocking to the Breville smart air fryer, and they are experiencing great results. This appliance is so much more than just a way to enjoy some typically unhealthy foods without all the guilt. It can cook an incredible variety of dishes, including many that you probably never thought possible.
Breville smart air fryer comes with some cooking functions: toast, bagel, roast, bake. The recipes in this book have been designed to give you a glimpse into this device's limitless potential. With these tasty recipes, everyone will want to come back for that unique taste that can only be delivered by an air fryer toast oven.
Preparing food in an air fryer toast oven is easy. The only thing required is to pay attention during the cooking process to avoid burning your food.
The most significant sell point of an air fryer toast oven is you can prepare delicious meals with fewer calories compared to traditional cooking. Moreover, it provides the best environment for bringing out the natural flavors of your ingredients. The use of this kitchen appliance ensures the making of some of your favorite snacks and meals in a stress-free manner without hassling around.
This book covers:
- Benefits of the air fryer
- How to use the Breville smart air fryer oven
- Tips and tricks
- Breakfast, lunch, and dinner recipes
- Poultry, beef, and seafood recipes
- Snack and dessert recipes
...And much more
Let's discover how healthy cooking can be easy and tasty. Click here to buy this book now