Declutter Workbook: A Beginner Guide to Organizing your House, Managing Spaces and Reduce Stress Easily and Effortlessly with Little Secre (Paperback)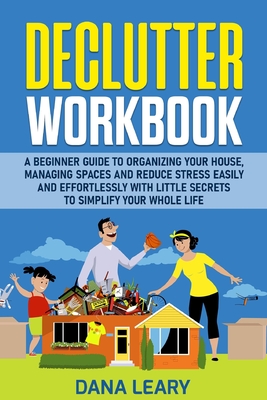 $15.99

Usually Ships in 1-5 Days
Description
---
Do you always struggle with clutter in your home? Would you like to know how to organize the house space efficiently and with less stress? Then this is the perfect book for you
Nowadays our homes are more and more 'suffocated' with lot of useless, and unnecessary objects we consider as fundamental, but it makes very difficult to keep everything organized and well maintained. However, the truth is that we can easily get rid of them
Moreover, having a well-organized and efficient environment at home is also the key to succeeding in both your personal and professional life. This is why is so important you start with tidying your home to become also more efficient at work and in every other field of your personal life.
By reading this book, you will learn:
- How to set up an easy, step-by-step plan for sorting, purging and organising every space of your house;
- Different ways to clean and organize every room of your house;
- Proven techniques and strategies to clear space in your office and Skyrocket your Productivity
- How to retrieve your life by getting rid of all the unnecessary belongings;
- And much more.
Would You Like To Know More? Making your home look better has never been so easy Order your copy today