The Art of Psychological Warfare: The Ultimate Guide to Build Mental Toughness and Mind Control. Dis-cover the Machiavelli Mindset to Master your Emot (Hardcover)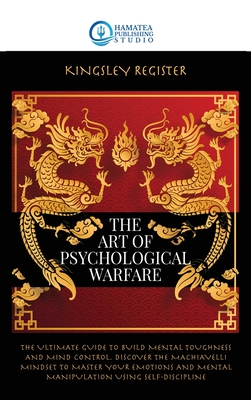 $31.98

Usually Ships in 1-5 Days
Description
---
Would you like to discover a way to achieve your goals by using seduction, self-discipline, and the best proven secrets to manipulate people's minds effortlessly?
If the answer is "YES", then keep reading...
Mental Toughness is not only essential to have the confidence needed to keep pushing forward to reach your goals, it's also very important for many different aspects of your life, including being always mentally ready to face any challenge, and being able to completely master and control your and other's feelings and emotions.
This Guide was specifically written to help you build Mental Toughness and to teach you everything you need to know about Mind Control and Mental Manipulation, in fact, by reading this manual you will discover:
- Everything you need to know about Psychological Warfare, to be aware of how this phenomenon affects your everyday life, and to know why is it so important to have a mental strategy and control over your mind
- The Most Useful Principles of Sun Tzu, so you can learn from one of the greatest strategists that ever existed, with practical and actual examples that will make you understand what to do in every situation
- The best way to Increase Mental Control, to be able to discipline your mind and become the master of controlling people's mind and the way they think
- 5 Practices that will Help You Be Your Best You, that you can train every day to become a better version of yourself and influence others significantly more
- The Best Psychological Strategies to give you an Advantage in Life, so you can always rely on proven strategies to make your life easier under every aspect, no matter what
- Tested and Confirmed Strategies to Improve your Mental Toughness, in order for you to train yourself to have full control over your mind and thoughts, to always have the best outcomes under all circumstances
- How to be Calm and Strong in Every Situation, to never be scared or unprepared when you need to face difficult or challenging environments
- ... & Many More Useful Information
Thanks to this detailed guide you will finally be able to be the master of your life by acquiring special mental skills that will allow you to use your mind in a mindful way to win every argument, influence people, overcome obstacles in your life, and destroy those mental patterns that were affecting you so...
...What are you waiting for? Scroll to the top of the page and click the "BUY NOW" button to start immediately