Psilocybin Mushrooms: Practical Guide to Cultivation and Safe Use of Psychedelic Magic Mushrooms with Benefits and Side Effects (Paperback)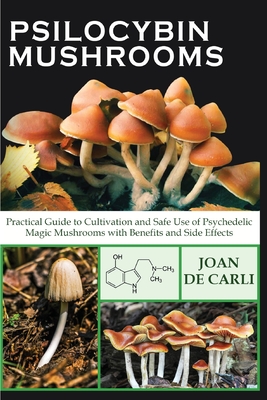 $19.97
Email or call for price
Description
---
Uncover the incredible world of magic mushrooms and their proven health benefits
Do you want to learn more about the amazing psilocybin mushroom family? Interested in how you can grow, cultivate, and use them to experience the countless benefits? Or do you want to know how a psychedelic trip can transform your outlook on the world? Then keep reading.
Psilocybin mushrooms have been used for thousands of years across dozens of cultures to induce dreams and visions, connect with one's higher self, and transcend the material world. But far from being mystical tools for talking to the divine, the truth is that magic mushrooms hold incredible potential to revolutionize medicine as we know it.
Whether you want to discover how to grow mushrooms, practice the safest methods of taking them, or learn about the biology of this amazing fungi, this brilliant guide offers you a simple and easy-to-understand look at what makes these mushrooms so special.
Here's just a little of what you'll discover inside:
- Understanding The Physical, Mental, and Psychological Impact of Psilocybin
- A History and Origins of Magic Mushrooms and Their Use
- Breaking Down The Biology - How These Amazing Fungi Really Work
- Exploring The Countless Proven Benefits of Using Magic Mushrooms
- Practical Methods For Growing and Cultivating Your Own Mushrooms
- The Top 10 Legal Drugs That Will Induce a Powerful Psychedelic Trip
- Essential Tips For Safe Mushroom Use
- And Much More
With a wealth of vital information on safe practices, fungi biology, and how you can harness the power of psilocybin mushrooms, this book dispels the mysteries and sheds light on the incredible benefits that these mushrooms have to offer.
So don't wait Buy now to uncover the world of magic mushrooms today