Machine Learning for Beginners: A Step-By-Step Guide to Understand Deep Learning, Data Science and Analysis, Basic Software and Algorithms for Artific (Paperback)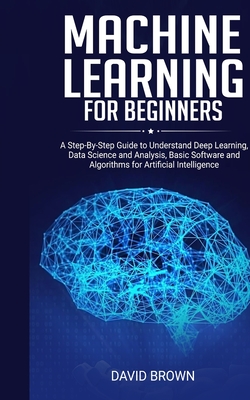 $19.99

Usually Ships in 1-5 Days
Description
---
Learn Machine Learning, Deep Learning, Data Science and More
Machine learning is here; it is changing the world in ways you might not know yet. From search engines to speech recognition on your phone, machine learning is taking over.
If you have taken an interest in machine learning and want to learn how it all works, then you need some guidance before you can dive-in to the complicated stuff.
This book explains machine learning, in simple English, for beginners of all levels.
In this book, you will learn how machines are able to use data to learn on their own, discover how you can create sophisticated programs without the need for complex programming, and see daily applications of machine learning in action
Here's what you will find inside:
Introduction to machine learning from history, types of machine learning and examples.
Basics of machine learning: You will learn about datasets and see examples of the ones you can download
Machine learning algorithms: You will learn about neural networks and see practical applications of machine learning and deep learning algorithms
Machine learning software: You will get started with machine learning and see some of the most popular scientific computing software platforms.
Artificial intelligence and why it is important: You will learn how artificial intelligence relates to machine learning and what the future looks like.
You will get access to datasets and machine learning software so you can try out your very own machine learning project.
FAQ
Q: Do I need prior programming experience to make use of the book?
A: No. This book is intended for complete beginners to machine learning. The language used is simple and the reader is taken from one concept to the next in a progressive manner.
Q: Will this book make an expert in machine learning?
A: This book is intended to give beginners a firm introduction into machine learning so they are better placed to understand advanced machine learning concepts.