Optavia Diet Cookbook: Cook and Taste 300+ Healthy Lean & Green Meals - 150+ Optavia Air Fryer Recipes - the Smart 5&1 Plan. Kill Hunger, Be (Hardcover)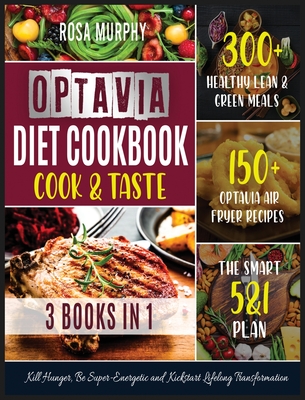 $49.99
Email or call for price
Description
---
Has Optavia Diet's fame come to you?
Did someone recommend it to you without providing any proper guidance?
Are you looking for 250+ Taste Optavia Recipes and healthy ways to cook mouth-watering lean and green meals?
Let me explain you...
The Optavia Diet(TM) is a protocol scientifically structured to fit your eating habits and to delete the sense of hunger forever. You can eat your tasty Fuelings every 3 hours or less and that's not all... Optavia Diet is mainly designed to lose weight and maintain it. Hence it has Three Main Programs with 5&1, 4&2&1, 3&3; the latter two plans combine real meals with Fuelings. These Lean & Green recipes eat one time a day and they can be doubled in nutrition when making in an air fryer with even less amount of time.
Needless to say, it is crucial to keep everything in mind before you follow any diet plan. Cutting out any particular something from your diet without proper knowledge and consultation is never a good idea. What to eat and what not; you will find A to Z everything you need to know in this massive bundle
In this book you will find
Guideline on how to start with Optavia Diet
Fuelings and Lean Green Meals: how to cook and taste them with your air fryer
150+ Tasty Lean and Green Meal Recipes with instructions step-by-step
Optavia Lean & Green Poultry Recipes
Optavia Lean & Green Low Budget Recipes
Optavia Lean & Green Pork Recipes
Optavia Lean & Green Turkey Recipes
Optavia Lean & Green Seafood Recipes
Optavia Greens & side recipes
And much more...
-> Why you need to grab now your copy of this book:
150+ Gourmet Recipes
100+ Air Fryer Recipes
The Low-Budget 5&1 Plan
Detailed Nutritional Tabs and Charts
***Buy it now for less than the cost of a simple haircut***
Following certain diet plans for weight loss because you have any medical condition where weight loss is necessary is not as easy as it seems. Each one of us has different body types and specific deficiencies.
The perfect solution is now at your fingertips.
This Gourmet Optavia Diet Cookbook has proven its beneficial to hundreds of people in America, because - with the 250+ recipes inside and the Smart 5&1 Meal Plan - your body will be healthier, more energetic and longer-lived through the fat burning lifelong transformation process patented by the Optavia specialists.
This smart guide contains specific steps-for cook and taste mouthwatering and start fat burning while deleting the sense of hunger. Everything you need to do is simply follow it.
What are you waiting for?
♥ Scroll up the page e Click the Buy Now Button to grap your copy now ♥