Free Motion Embroidery: Creating textile art with layered fabric & stitch (Paperback)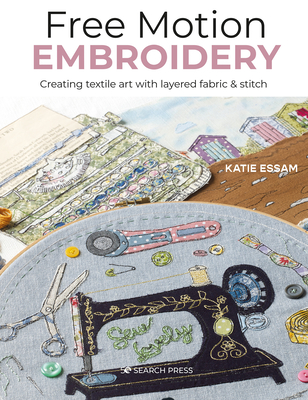 Description
---
Experiment and discover your own artistic voice and style! Providing a wealth of inspiration for those new to textile art as well as experienced textile artists, Free Motion Embroidery guides you through the entire creative process – from finding inspiration to designing your own stitched artworks.

This revised and updated standalone title is drawn from Katie Essam's successful Layered and Stitched Pictures in The Textile Artist series. Incorporating a new bonus project, this book showcases Katie's free machine embroidery techniques. Her fresh, modern style uses unique combinations of traditional techniques, and in this book she shows how to create beautiful textile art inspired by the beauty in everyday objects.
With eight projects and lots of inspirational finished artworks to provide inspiration, this book teaches the reader how to draw inspiration from the animals, birds, gardens, beach huts and scenes that surround us all; and use that inspiration as fuel to create gorgeous stitched pictures.

About the Author
---
Katie Essam's passion for textiles began when she graduated form the University of Hertfordshire with a BA Hons in Contemporary Applied Art. She combines freehand machine embroidery, appliqué and other textile techniques to make original mixed media textile art pieces, inspired by the beauty in everyday objects and scenes. She especially loves turning personal photographs of family, pets or houses, into original, tailor-made pieces of textile art. Katie runs a variety of workshops around the UK teaching the techniques she uses to make her textile art. Katie lives in Bexhill, UK.