Four Killings: Land Hunger, Murder and Family in the Irish Revolution (Paperback)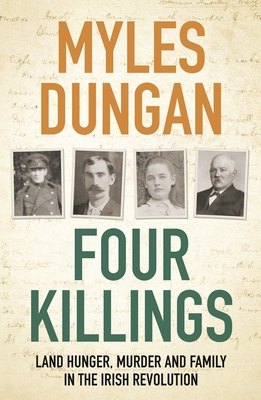 Description
---
The story of a single family during the Irish Revolution, Four Killings is a book about political murder, and the powerful hunger for land and the savagery it can unleash.
Myles Dungan's family was involved in four violent deaths between 1915 and 1922. Jack Clinton, an immigrant small farmer from County Meath, was murdered in the remote and lawless Arizona territory by a powerful rancher's hired assassin; three more died in Ireland, and each death is compellingly reconstructed in this extraordinary book.
Mark Clinton was murdered by a group of agrarian 'bandits' who resented his family's possession of some disputed acres; his killer was tried and executed by the dead man's relatives and comrades in the Meath IRA. A mentally challenged youth was shot as an informer by another relative of Dungan's, and buried in secrecy and silence.
What unites these deaths is the violence that engulfed Ireland during the campaign against the British, but also the passions unleashed by arguments over the ownership of the soil. That often brutal struggle between landless laborers and smallholders and more prosperous farmers is a forgotten aspect of the war of independence.
Myles Dungan's book, focused on one family, offers an original perspective on this still controversial period: a prism through which the moral and personal costs of violence, and the elemental conflict over land, come alive in surprising ways.
About the Author
---
Myles Dungan is a broadcaster and historian. He presents The History Show on RTÉ Radio 1 and his weekly 'On This Day' column for Drivetime is in its second year. He has also compiled and presented a number of award-winning historical documentaries. He is the author of numerous works on Irish and American history, including How the Irish Won the West, and holds a PhD from Trinity College, Dublin.
Praise For…
---
'An engrossing account of the intimacies of political violence through the meticulous excavation of an Irish family's entanglements with struggles over land and nation across two continents' Maurice Walsh, author of Bitter Freedom

'Myles Dungan illuminates the history of the revolution in rural Meath and Cavan, while also showing how a history of violence in an intimate society could send ripples out into the wider global world as far as Arizona and Argentina. In a vivid and chilling narrative, Four Killings confronts uncomfortable questions that still need answering' Roy Foster, author of On Seamus Heaney