The Rule-Breaking Letterer's Workbook: Prompts and Inspiration for Embracing Imperfection (Paperback)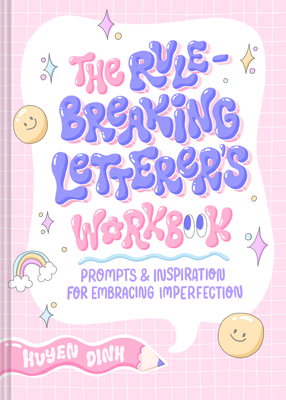 Description
---
This workbook is a perfectionism-free zone for breaking the rules and expressing your unique self through lettering art!
The workbook for aspiring letterers who want to let go of perfectionism and follow their dreams. As a schoolgirl in Vietnam and later in online lettering classes, Huyen Dinh was always told to perfect her penmanship. Instead, she started embracing her own imperfect style—with squiggly lines, cheeky messages, and pastel colors.
Now it's your turn! This guided workbook invites you to break the rules, embrace your ugly sketches, and discover your own special lettering style. Along the way, Dinh offers inspiration, encouragement, and tips. And once you've filled this sketchbook, you can use your new lettering skills to tell your personal story, support a cause you care about, or decorate your tote bags and sneakers! 
A GUIDED WORKBOOK JUST FOR LETTERING: This fresh and fun guide includes prompts for developing your personal lettering style as well as colorful illustrations to cheer you on.
MAKES LETTERING FUN: No need to sweat over creating technically perfect calligraphy. Hand lettering is a chance to explore your personal style and share your passions with the world. Use this workbook to let your creativity shine!
RISING STAR: Huyen Dinh's refreshing honesty and irresistible illustration style have resonated with thousands of fans online. Her lettering art has graced murals, sweatshirts, magazine covers, and more. With this workbook, she welcomes anyone to join her in creating perfectly imperfect lettering.
Perfect for:
Letterers, calligraphers, artists, and illustrators looking for a fun and practical resource
Students of all ages looking for a creative outlet
Casual creatives and hobbyists who love hand lettering, drawing with letters, and font, alphabet, and script design
Pairing with Dinh's How to Be a Rule-Breaking Letterer book or her special set of Rule-Breaker's Markers as a gift
Anyone looking for a comfortably sized unlined journal to tuck into a tote bag or backpack for a moment of inspiration or artistic practice anywhere
About the Author
---
Huyen Dinh is a lettering and illustration artist. Her clients include Southern Living Magazine, the Washington Post, Canon, and Trader Joe's. She was raised in Vietnam and now lives in sunny Los Angeles.