Church, Interrupted: Havoc & Hope: The Tender Revolt of Pope Francis (Hardcover)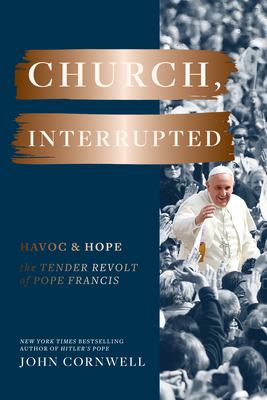 Description
---
Church, Interrupted: Havoc & Hope: The Tender Revolt of Pope Francis is a revealing portrait of Pope Francis's hopeful yet controversial efforts to recreate the Catholic Church to become, once again, a welcoming place of empathy, love, and inclusiveness.

Bestselling author, Vanity Fair contributor, and papal biographer John Cornwell tells the gripping insider story of Pope Francis's bid to bring renewal and hope to a crisis-plagued Church and the world at large.

With unique insights and original reporting, Cornwell reveals how Francis has persistently provoked and disrupted his stubbornly unchanging Church, purging clerical corruption and reforming entrenched institutions, while calling for action against global poverty, climate change, and racism.

Cornwell argues that despite fierce opposition from traditionalist clergy and right-wing media, the pope has radically widened Catholic moral priorities, calling for mercy and compassion over rigid dogmatism. Francis, according to Cornwell, has transformed the Vatican from being a top-down centralized authority to being a spiritual service for a global Church. He has welcomed the rejected, abused, and disheartened; reached out to people of other faiths and those of none; and proved a providential spiritual leader for future generations.

Highly acclaimed author John Cornwell's riveting account of the hopeful—and contentious—efforts undertaken by Pope Francis to rebuild the Catholic Church.

• Well researched and brilliantly written, readers, scholars, and fans of John Cornwell will want to read his most controversial and compelling work yet.
• More than a third of America's 74 million Catholics said they were contemplating departure in 2018. It is estimated that over the past twenty years, the Catholic Church has been losing $2.5 billion dollars annually in revenues, legal fees, and damages due to clerical abuse cases. The decline in church attendance, marriages, and vocations to the priesthood and sisterhood tell a story of major decline and disillusion. Cornwell showcases Pope Francis's way forward, a hopeful message that gives reinvigorated reasons to stay with the church and help be the change the new generation would like to see.
• For readers within and outside Catholicism fascinated by the future and restructuring of the church, this will be a book they want to read again and again as the church continues to change and grow.
About the Author
---
JOHN CORNWELL is the New York Times bestselling author of Hitler's Pope and many other books on Catholicism, a regular contributor to Vanity Fair and the Sunday Times (London), and a historian based in Cambridge, England. In 2019 he won the coveted Wilbur Award for best American magazine feature on religious affairs. He is widely known as a trusted expert on the Vatican and the modern papacy.
Praise For…
---
"The eminent Vaticanologist has traced the up-and-down fortunes of all our recent popes. Which means that he knows how many and how massive are the obstacles against Pope Francis.... But he is betting on him nonetheless." --GARRY WILLS, New York Times bestselling author of What Jesus Meant

"Tenderness is the highest form of spiritual maturity. John Cornwell's masterful book shows the power of Pope Francis's embrace of this revolution of tenderness. Only by following his example will we return to a Church as a community of kinship, rooted in contemplation and a full expression of a loving, compassionate way of life." --GREGORY BOYLE, founder of Homeboy Industries and New York Times bestselling author of Tattoos on the Heart

"A comprehensive view of the current papacy through a variety of issues, crises, and achievements." --Kirkus

"In order to understand Pope Francis, the best standpoint is not the insider's, but the outsider's. The discouraged, disillusioned, and marginalized are at the center of Francis's pontificate, and it is from their key perspectives that Cornwell's Church, Interrupted interprets this moment of hope in the life of the Catholic Church." --MASSIMO FAGGIOLI, Villanova University Professor of Theology and Religious Studies and author of The Liminal Papacy of Pope Francis

"A fascinating, heartfelt and often deeply personal account of Pope Francis and his revolutionary papal regime." --The Catholic Herald

"A comprehensive and evenhanded appraisal of the first seven years of Pope Francis's papacy.. This thoughtful consideration of Francis's early actions and influence will appeal to anyone interested in the challenges facing the Catholic church in the contemporary era." --PUBLISHERS WEEKLY

"Cornwell knows how to do his research and weave a narrative that's easy to understand.. This is a book that Catholics can learn a lot from." --Religion Unplugged

"Highly readable and accessible and, for an outsider curious about the Francis Effect, a fine introduction to the heart of what makes this pontificate so extraordinary." --Commonweal