Flesh and Steel (Warhammer 40,000) (Paperback)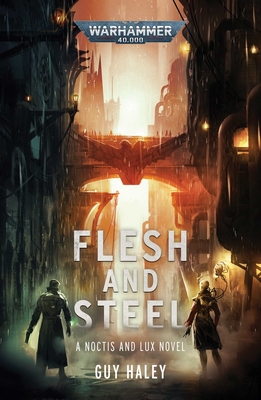 $16.00
Email or call for price
Other Books in Series
Description
---
Great Warhammer Crime novel, set in the sprawling Warhammer 40,000 metropolis of Varangantua...

Born into riches, Probator Symeon Noctis attempts to atone for his past sins by championing the powerless of Nearsteel district. But the sprawling city of Varangantua is uncaring of its masses, and when a bisected corpse is discovered in the neutral zone between Nearsteel and the Adeptus Mechanicus enclave of Steelmound, Noctis finds himself cast into his most dangerous case yet.

Partnering with the tech-priest Rho-1 Lux of the Collegiate Extremis, Noctis is drawn into a murky world of tech-heresy, illegal servitors and exploitation that could end his career, or his life.
About the Author
---
Guy Haley is the author of the Siege of Terra novel The Lost and the Damned, as well as the Horus Heresy novels Titandeath, Wolfsbane and Pharos, and the Primarchs novels Konrad Curze: The Night Haunter, Corax: Lord of Shadows and Perturabo: The Hammer of Olympia. He has also written many Warhammer 40,000 novels, including Belisarius Cawl: The Great Work, Dark Imperium, Dark Imperium: Plague War, The Devastation of Baal, Dante, Darkness in the Blood, Baneblade and Shadowsword. His enthusiasm for all things greenskin has also led him to pen the eponymous Warhammer novel Skarsnik, as well as the End Times novel The Rise of the Horned Rat. He has also written stories set in the Age of Sigmar, included in War Storm, Ghal Maraz and Call of Archaon. He lives in Yorkshire with his wife and son.