Descendant Machine (Paperback)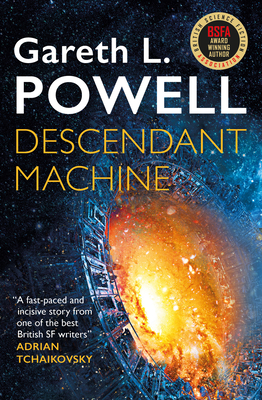 Description
---
From the award-winning author comes a gripping, fast-paced and fascinating science fiction adventure. Vividly imagined and sharply written, fans of Ann Leckie and Becky Chambers will be engrossed.

When Nicola Mafalda's scout ship comes under attack, she's left deeply traumatised by the drastic action it takes to keep her alive. Months later, when an old flame comes to her for help, she realises she has to find a way to forgive both the ship and her former lover. Reckless elements are attempting to reactivate a giant machine that has lain dormant for thousands of years. To stop them, Nicola and her crew will have to put aside their differences, sneak aboard a vast alien megaship, and try to stay alive long enough to prevent galactic devastation.
About the Author
---
Gareth L. Powell was born and raised in Bristol, where he still lives, and his early mentors included Diana Wynne Jones and Helen Dunmore. His novels have twice won the BSFA Award, and been finalists for both the Locus Award in the US and the Seiun Award in Japan. He is probably best known for his acclaimed Embers of War space opera series, which includes the novels Embers of War, Fleet of Knives, and Light of Impossible Stars. He is a popular guest and speaker at conventions and literary events, and can often be found on Twitter @garethlpowell giving free advice to aspiring authors.
Praise For…
---
Praise for Descendant Machine:


"Descendant Machine is smoothly paced, engagingly crafted, and crammed full of a sense of wonder at the sheer scale of the universe. Whatever Powell has planned next, on this evidence, it'll be well worth paying attention." 
- SFX


"Full of great sfnal novums and roller-coaster thrills, Powell's latest has me hoping for a long continuation of the Continuance." 
- Locus Magazine


"A fast-paced and incisive story from one of the best British SF writers" 
- Adrian Tchaikovsky, author of Shards of Earth


"Gareth Powell rocks again! Descendant Machine is big concept made accessible by a masterful writer. Fun, weird, fast-paced, and thoroughly entertaining! Grab this now!"
Jonathan Maberry, New York Times bestselling author of Kagen The Damned and V-Wars


"Hits the ground running and doesn't stop until its universe-shaking final confrontation. Once again, Gareth Powell is writing at the top of his very considerable game. More like this, please." 
Dave Hutchinson, author of Cold Water


"Descendent Machine has all the huge concepts that define great space operas tightly packed into a thrilling page-turner of a novel. The sheer breadth of ideas Powell manages to fit into the story is made all the more impressive by the deft pacing and focused characters. I devoured this book in a couple of days and had great fun doing it."
- Nicholas Binge, author of Ascension


Praise for Stars and Bones:


"A novel with heart and ambition" SFX


"With a strong heroine, some really imaginative supporting characters (including a talking cat), and a story that packs a serious emotional wallop, the novel spotlights Powell's gifts for character building and plotting. He's already won two best-novel awards from the British Science Fiction Association, and it wouldn't be surprising to see this one getting a nomination, too." 
Booklist


"Powell balances plot, action, and character development perfectly. This promising start will especially appeal to James S.A. Corey fans." 
Publishers Weekly, starred review


"Gareth Powell drops you into the action from the first page and then Just. Keeps. Going. This is a pro at the top of his game."
John Scalzi


"A headlong, visceral plunge into a future equal parts fascinating and terrifying."
Adrian Tchaikovsky


"A gripping, fast-paced space opera that poses the unique question: what if instead of saving humanity, aliens decided to save the Earth?"
Stina Leicht, author of Persephone Station


"A grand scale adventure packed with fun banter, snappy prose, and masterful science."
Essa Hansen, author of Nophek Gloss


"An interstellar intelligence has a plan for Earth's future, but is humanity a part of it? Fast-paced and thoughtful, Stars and Bones leaves the reader well-fed with hearty helpings of mystery, suspense, adventure, and terror."
Marina Lostetter, author of Noumenon


"Gareth Powell's Stars and Bones is shocking and beautiful—an electric, epic, and sometimes gruesome look at humanity facing its biggest challenge yet. Powell keeps the pressure on and doesn't let go. I enjoyed it immensely."
Karen Osborne, author of Architects of Memory


"A vividly imagined, propulsive read. Filled with a loveable cast of characters. Powell's writing creates a rich tapestry of their voices and inner lives. I think readers will be thrilled by this story."
Temi Oh, author of Do You Dream of Terra-Two?


"Big ships, big ideas and big emotions. Thrilling space opera which is epic in scope, yet always rooted at the human level, as all the best sci-fi is."
Emma Newman, author of Planetfall


"An interstellar collision of massive ideas and startling originality."
Zack Jordan, author of The Last Human


"Stars and Bones crafts a future that finds hope in dark places."
Valerie Valdes, author of Chilling Effect