Firefly - Artbook: A Visual Celebration of Joss Whedon's Swashbuckling 'Verse (Hardcover)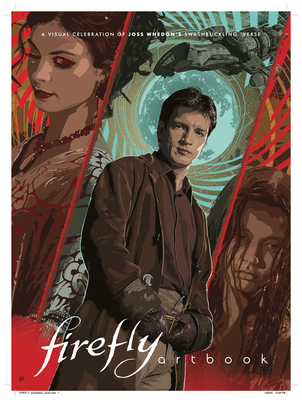 $50.00
Email or call for price
Description
---
A collection of stunning brand-new exclusive original art celebrating the TV series Firefly.

An original glossy coffee table book bursting with brand new and exclusive art. The book includes over 120 pieces by professional artists, illustrators, concept artists, comics artists and graphic designers. The featured artists include Joe Corroney, Rian Hughes, John J Hill, Sandra Kamenz, Angel Onofre, Stephen Sampson (The Dark Inker), Liza Shumskaya, and Angel Trancon. From character portraits, faux book covers and poster concepts, to iconic scenes, wanted posters and renderings of Serenity, each artist puts their own stamp on the Firefly universe.
About the Author
---
Printed In Blood was born from a mutual love of horror movies, art & design and the wealth of artistic talent working today who you may or may not be aware of. We see ourselves as curators of a legacy of pop culture that has been growing for decades. As curators of that art, we hope to be able to bring to you things that will add to the beauty of your own environment, wherever you choose to be.