Kombucha: Healthy recipes for naturally fermented tea drinks (Hardcover)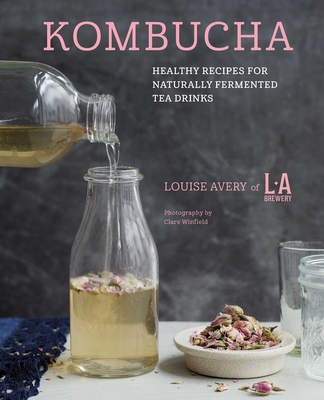 $14.95
Email or call for price
Description
---
Want a healthy gut? Then brew and drink your own naturally fermented kombucha—it's packed full of probiotics and is thought to improve digestion and boost the immune system.

Louise Avery is one of London's best-connected kombucha producers and the owner of LA Brewery. Here she reveals her tried-and-tested recipes that use the freshest produce to create truly delicious fermented teas.

Starting with an explanation of exactly what kombucha is, Louise then offers information on the types of tea you can use to flavor your kombucha, the health benefits of drinking it, and the essential equipment you will need to brew your own.

Next, she presents a step-by-step process for brewing kombucha, bottling and storing, and controlling the yeast. Recipes are then organized by type of base: Fruit, with recipes for Blood Orangeade, Pear and Ginger Tea; Vegetable, including Striped Candy Beets and Lime, and a Virgin Mary. Flower has ideas for Hibiscus Kombucha and a Hoppy Pale Ale, while Herb, Spice, and Tea is where things heat up with Lemongrass Tea and two Turmeric Immune Boosters as well as Jasmine Kombucha and a Lychee Basil Mojito.
About the Author
---
Louise Avery is the founder and owner of kombucha microbrewery Lois & the Living Teas. The company uses all natural ingredients to brew health-boosting, sparkling probiotic teas and currently supply high-end gyms and sports centres, such as Barrecore, London-based bars and cafes including Mojo juice bars. Louise lives with her partner in east London, near to her Hackney brewery, and this is her first book.