Spain - Culture Smart!: The Essential Guide to Customs & Culture (Paperback)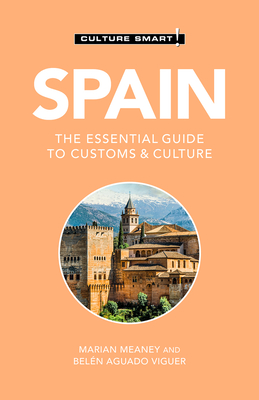 $12.99

Usually Ships in 1-5 Days
Other Books in Series
This is book number 108 in the Culture Smart! series.
Description
---
Don't just see the sights—get to know the people.

In the popular imagination Spain conjures up a picture of rapacious conquistadores, fiery flamenco dancers, and brilliant artists. All true enough but how closely does everyday life in modern Spain conform to these dramatic stereotypes?

Culture Smart! Spain explores the complex human realities of contemporary Spanish life. It describes how Spain s history and geography have created both strongly felt regional differences and shared values and attitudes. It reveals what the Spaniards are like at home, and in business, how they socialize, and how to build lasting relationships with them. The better you understand the Spanish people, the more you will be enriched by your experience of this vital, warm, and varied country where the individual is important, and the enjoyment of life is paramount.

Have a richer and more meaningful experience abroad through a better understanding of the local culture. Chapters on history, values, attitudes, and traditions will help you to better understand your hosts, while tips on etiquette and communicating will help you to navigate unfamiliar situations and avoid faux pas.
About the Author
---
Bélen Aguado Viguer is a protocol, diplomacy, and tourism expert. She graduated in Tourism at the Universidad Politécnica de Valencia, continued with an MBA in Protocol, Event Management, and Institutional Relations at the Universidad Camilo José Cela (Madrid), and completed an MA in International Business and Diplomacy at the London Academy of Diplomacy, University of East Anglia. At present she works as a coordinator of international mobility and development at the Universitat Internacional de Catalunya.
Marian Meaney is a teacher, translator, and interpreter who lived and worked in Spain for twenty years. After graduating with honors in English and Spanish from University College, Galway, she completed a higher diploma in Education, and was awarded a scholarship to study Spanish culture at the University of Salamanca. She subsequently ran English-language academies in Malaga and Barcelona, and has advised both Spanish businesses and government organizations on international exchange programs.
Praise For…
---
"Culture Smart! has come to the rescue of hapless travellers."—Sunday Times Travel
"...the perfect introduction to the weird, wonderful and downright odd quirks and customs of various countries." —Global Travel
"...full of fascinating, as well as common sense, tips to help you avoid embarrassing faux pas." —Observer
"...as useful as they are entertaining."—Easy Jet Magazine
"...offer glimpses into the psyche of a faraway world."—
New York Times