Her Daughter's Cry: An absolutely gripping crime thriller (Paperback)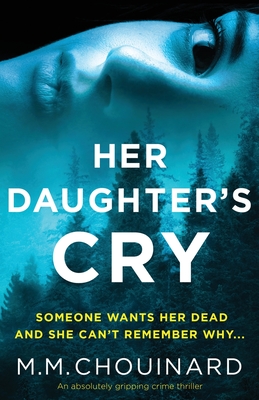 for information about purchasing this book, please contact orders@bookpassage.com
Description
---
Someone wants her dead, and she can't remember why.

Zoe is a wife and a mother. Or so she's been told. Ask her for more than that and she couldn't tell you. The blow to her head wiped her memory clean.

Zoe knows the blood on her shirt isn't just her own. After she was found stumbling out of the woods, the police ran tests. They say it belongs to her missing daughter.

Zoe is trying to piece together what her daughter's face looks like, but all she can conjure up is a white-hot panic. A fear that her child is in desperate need of her help.

When a man claiming to be her husband turns up looking for her, she knows she can't trust him. Until she gets her memories back, she can't trust anyone. Not the stranger, not the police investigating, not even herself...

A completely addictive thriller that will keep you guessing into the early hours of the morning. Perfect for fans of The Silent Patient, Lisa Regan and Gregg Olsen.

Readers are loving Her Daughter's Cry:
"Just WOW The twists I just didn't see coming... The story was crazy SO CRAZY That if you think you can guess what is going to happen you will be sadly mistaken The characters in this one were great... I loved every second of it." Crossroad Reviews ⭐⭐⭐⭐⭐

"Wow. This book gripped me from the very first page until the very last page. I just couldn't put it down and when I had to put it down I couldn't wait to pick it up again I would most definitely recommend this book to lovers of thrillers " Goodreads Reviewer

"GREAT story... a must-read... A ""stay up and finish book"". MM Chouinard has created another fantastic thriller ... A fabulous read Looking forward to the next." Goodreads Reviewer ⭐⭐⭐⭐⭐

"I am now off to read the previous book, which means my ironing will have to wait " NetGalley Reviewer

"This book is a must-read... Very gripping." Goodreads Reviewer ⭐⭐⭐⭐⭐

"The writing is fantastic... easy to follow and hard to put down." Ludwig's Thrillers

Read what everyone is saying about M.M. Chouinard:
"Wow, what a book I don't think I drew a full breath for the entire time I was reading... I took it everywhere I went... I needed to read it at every opportunity ... Unbelievably twisty... I loved every word of it " Goodreads Reviewer ⭐⭐⭐⭐⭐
"Loved it, loved it, loved it ... If I could give it 6 stars I would In this current climate of 'twists you will never see coming' - believe me... you will never see this coming ... Cannot wait for the next book ... Best book I have read for some time." NetGalley Reviewer ⭐⭐⭐⭐⭐