We Are Arrested: A Journalist's Notes from a Turkish Prison (Hardcover)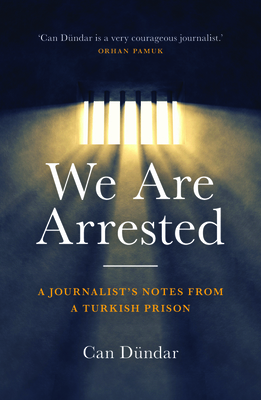 $18.95

Usually Ships in 1-5 Days
Description
---
Can D ndar is a very courageous journalist. --Orhan Pamuk
In November 2015, Can D ndar, editor-in-chief of the Turkish daily newspaper Cumhuriyet, was arrested on charges of divulging state secrets and espionage. Condemned and arraigned by the President himself, D ndar's crime was informing the public of the discovery of a highly illegal covert arms shipment. The story revealed that the country's intelligence service was secretly shipping weapons to Syria, making Turkey a party to the Syrian civil war. This was a crime that it was in the government's interest to conceal, and a journalist's duty to expose.
The title of We Are Arrested is taken from Can D ndar's tweet on the day he was detained. This book is his account of the discovery, the decision to publish it, and the events that unfolded after that decision. D ndar and the newspaper faced police barricades, would-be suicide bombers and assassination attempts, and fierce attacks from pro-government media.
Incarcerated in Silivri Prison, D ndar decided to write down his experiences. Here, in isolation, he learned to appreciate the small things in life. Most importantly, he realised that courage in an age of fear is essential if the public's right to know is to be defended.
Following the events of July 2016, in which elements of Turkey's armed forces staged an attempted coup against the country's government, prompting backlash from President Recep Tayyip Erdoğan, this book stands as a beacon for free speech.
Can D ndar is editor-in-chief of the venerable daily newspaper Cumhuriyet. In May of 2016 he was sentenced to imprisonment for five years and ten months for leaking secret information of the state.