Red Rosa: A Graphic Biography of Rosa Luxemburg (Paperback)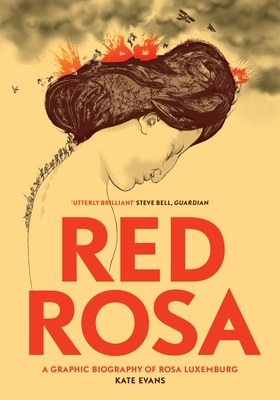 Description
---
A graphic novel of the dramatic life and death of German revolutionary Rosa Luxemburg

A giant of the political left, Rosa Luxemburg is one of the foremost minds in the canon of revolutionary socialist thought. But she was much more than just a thinker. She made herself heard in a world inimical to the voices of strong-willed women. She overcame physical infirmity and the prejudice she faced as a Jew to become an active revolutionary whose philosophy enriched every corner of an incredibly productive and creative life—her many friendships, her sexual intimacies, and her love of science, nature and art.

Always opposed to the First World War, when others on the German left were swept up on a tide of nationalism, she was imprisoned and murdered in 1919 fighting for a revolution she knew to be doomed.

In this beautifully drawn work of graphic biography, writer and artist Kate Evans has opened up her subject's intellectual world to a new audience, grounding Luxemburg's ideas in the realities of an inspirational and deeply affecting life.
About the Author
---
Kate Evans is a cartoonist, artist, and activist. She is the author of numerous books and zines including Bump: How to Make, Grow and Birth a Baby and Funny Weather: Everything You Didn't Want to Know about Climate Change but Probably Should Find Out.

Paul Buhle, formerly a Senior Lecturer at Brown University, produces radical comics and is a recipient of an Eisner Award, the comics industry's Oscars. He founded the SDS journal Radical America and the archive Oral History of the American Left and, with Mari Jo Buhle, is coeditor of the Encyclopedia of the American Left. He lives in Madison.
Praise For…
---
"A courageous leader of the early twentieth-century socialist movement—a woman who dared to question both Marx and Lenin—Luxemburg was also, as Kate Evans reveals in this brilliant graphic biography, a person of deep passions, ecstatic insights, and ultimately, as fascism emerged from the ruins of World War I—heartbreak of historic dimensions. This book is hard to put down and contains a challenge that is impossible to turn away from: We could create a better world—peaceful, egalitarian, even joyful—if we are willing to learn from Red Rosa."
—Barbara Ehrenreich, author of Living with a Wild God

"I admire it as an artist. I admire it as a writer. A huge achievement."
—Molly Crabapple, artist and author of Drawing Blood

"If it were a movie, you might call Red Rosa a tour de force, but that would be short-changing it. Red Rosa is a gripping, wonderfully illustrated account of Rosa Luxemburg the person, but more importantly a straightforward and intellectually honest introduction to her politics and her theoretical contributions. It embodies everything implied by the phrase 'Marxismus theorie und praxis.'"
—Los Angeles Review of Books

"A stirring and beautiful book … Red Rosa is of more than biographical or aesthetic interest as an introduction to Rosa Luxembourg's ideas. Its massive appendix, providing lengthy quotations from source material for every citation in the comic, is an education in itself."
—Michael Robbins, Chicago Tribune

"Five stars. The perfect book for [the] socialist-curious … What Rosa Luxemburg wrote about and predicted is scarily relevant today."
—John Yohe, Comics Bulletin

"A story told with verve, humor, and great art."
—Trina Robbins, author of Pretty in Ink

"Kate Evans deserves our gratitude for telling the tragic tale of this early twentieth-century revolutionary."
—Sharon Rudahl, author and artist of Dangerous Woman

"[Luxemburg] gets her due in a full-length graphic novel biography … Red Rosa fits comfortably in this fall theme of feminist representation in graphic novels and comics."
—Sarah S. Ward, BookRiot

"Wonderful. I love the way it incorporates complicated historical details into a moving biographical account."
—Mary M. Talbot, author of Dotter of Her Father's Eyes

"Luxemburg's journey out of Poland to becoming a leader of the German Communist uprising certainly contains enough excitement to fill the pages of a graphic novel. A lively history of Luxemberg's life and fine blend of Evans' other areas of thematic interests of feminism, class tensions and womanhood."
—Broadly

"If the bedrock of this biography is its combination of Marxist theory and historical narrative—including but not limited to Luxemburg's participation in the international socialist movement, German politics, and the Russian Revolution of 1905—the motherlode is its touching portrayal of a woman who sacrificed her life for her beliefs."
—Jan Herman, Arts Journal

"Utterly brilliant. The best book I've read all year."
—Steve Bell, Guardian

"We need more political cartoonists like Kate Evans. She is an artist who lives her art and a radical who lives her politics … she can write about revolution, not as a historical object, but as a real, relevant, living thing, because Kate is herself a revolutionary."
—Seth Tobocman, author and artist of Disaster and Resistance

"Stunningly good."
—Paul Mason, author of Postcapitalism

"Red Rosa is a wonderfully composed and lively book. The story it tells is compelling, inspirational and fundamentally human. Instructional in its politics and discussions of economics, Red Rosa is also at turns humorous, romantic, and emotional. The decision to write this work in the graphic novel form was a brilliant one; if there is a biography whose multiple dimensions requires more than words to tell it, Rosa Luxembourg's is such a biography."
—Ron Jacobs, Counterpunch

"In its best moments it does a fine job of telling her story. The prison scenes are particularly good."
—Observer ("Best Graphic Books of 2015")

"Evans startles and inspires with her beautiful symbiosis of graphic and text. It is not tragedy that Evans ends with, the tragedy of Rosa's death at the age of forty-seven and the violence of the next decades it portended, but rather the inspiration she left to her comrades and the inspiration she can still bring to those who long for change."
—Bookslut

"Kate Evans' striking pairing of word and image to tell Luxemburg's story is so perfect that it seems surprising that no one has thought of it before."
—Sophie Mayer, The F Word

"If you have ever wanted to learn about Rosa Luxemburg, this book is the perfect entry point … Kate Evans has made the stirring story of Rosa Luxemburg's legacy accessible to a new generation of readers."
—Randy Shaw, Beyond Chron

"The book has an infectious quality and an embracing enthusiasm for revolutionary ideas. It's a perfect historic complement to the ongoing radicalisation of the Labour Party. An empowering read for would-be revolutionaries as much as for 'old hands.'"
—Morning Star

"[Evans's] storytelling is a clever mix of humor, pathos, politics, and the horrors of war … [a] compelling story of a strong, independent woman who never deviated from her beliefs."
—Booklist

"A unique format that is as informed and informative as it is absolutely absorbing from beginning to end."
—Midwest Book Review

"Offers an intimate view of the woman behind the revolutionary icon."
—Exberliner