A River Runs Through Me: A Life of Salmon Fishing in Scotland (Paperback)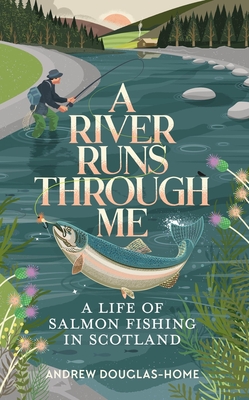 $16.99

Coming Soon - Available for Pre-Order Now
Description
---
An evocative account of one man's life spent fishing on arguably the world's best salmon river: a story of family, tradition and the Scottish countryside.

Against the shifting moods and seasons of Scotland's River Tweed, A River Runs Through Me tells the story of a lifelong relationship with one of its most iconic denizens: the Atlantic salmon.

Through vivid vignettes and family memories, Andrew Douglas-Home spins a homely yet dryly witty narrative, placing this unique fish and river at its heart. Woven into the decades, amid youthful adventure and memorable catches, are stories too of one of Scotland's oldest families – tales of politics, friendship and stewardship of the natural world.

This poignant and thoughtful book looks back at age-old practices and traditions but also forward to what we must do to secure the future of the Atlantic salmon and their rivers. It is the perfect companion for any angling enthusiast.
About the Author
---
Andrew Douglas-Home has lived on the banks of the River Tweed for most of his life. He was awarded an OBE in 2012 for his services to fishing and Scottish culture, recognizing his long work helping to secure the environment of the Tweed River as well as for the role he played with the Abbotsford Trust in preserving Abbotsford House, the home and legacy of Sir Walter Scott. He was a Tweed Commissioner for over 35 years, acting as Chairman of the River Tweed Commission and Tweed Foundation for eight years between 2004 and 2012. He is, of course, a keen fisherman.
Praise For…
---
'Andrew Douglas-Home and his family are inseparably identified with Tweed, perhaps the most glorious river in Britain, in which its salmon contribute mightily to its beauty. No one is better qualified than the author to write about fishing, wildlife and the wondrous flow of sparkling water across the Borders.' SIR MAX HASTINGS