John Osborne: Anger Is Not About...: "anger Is Not About..." (Hardcover)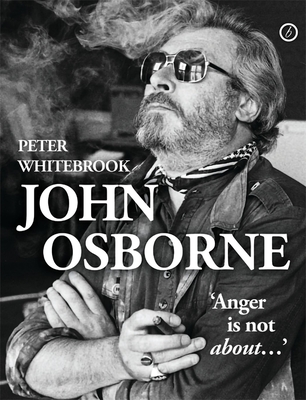 $25.00
Email or call for price
Description
---
This book has been nominated for both the Sheridan Morley Prize for biography, and the Theatre Book Prize.
A story of a man whose star rose very quickly and very early, and fell slowly and inexorably. A story of a man who knew himself perhaps too well, but not particularly wisely. It is exhilarating, perplexing and tragic. This new biography offers the most rounded portrait of Osborne yet seen. By embedding him in a social and cultural as well as a biographical context, Whitebrook presents Osborne in a way that has not been attempted before. It is the first book to properly explore the importance of his early collaborative work with Anthony Creighton, his lasting friendship with Pamela Lane, and his deep spiritual beliefs. It reveals the autobiographical background to Look Back in Anger and Watch It Come Down and places his literary achievement within a quintessentially English tradition. Seldom has a dramatist so compulsively revealed so much of himself - his flaws, his anxieties, his passion and his hatred - as John Osborne. His was a dazzlingly high-octane performance and in a succession of increasingly ambitious plays written during the 50s and 60s, he was able to unite a profound, intuitive intelligence with a caustically honest depth of feeling. By refusing to submit to caution, he laid bare in some of the most poetic and incendiary language heard in the 20th-century theatre, not only his own struggles and contradictions but those of the era. Almost single-handedly, he made the theatre important again. Catapulted from obscurity to being the icon of his age when he was only twenty-five, Osborne was at the height of his fame equally celebrated and derided as 'the Angry Young Man'. John Osborne: 'Anger is not about' examines his fractious, often chaotic personal life against the social and political background of his times. It provides an invigorating insight into his complex, often anguished personality and a fresh critical assessment of his writing. A vivid account not only of what it was like to be John Osborne, loyal and generous, scathing and brutal, but what it was like to be so restlessly a creative artist in the latter 20th century. Click here to read an exclusive extract in The Independent
About the Author
---
Peter Whitebrook was born in London and has written and broadcast widely on the theatre. Based in Edinburgh for many years, he was a cultural journalist and drama critic for The Scotsman newspaper. He covered several years of the Edinburgh Festival and won a Fringe First award for his co-adaptation of John Steinbeck's The Grapes of Wrath. As a broadcaster, he has worked in commercial radio, made regular appearances on BBC Radio Scotland arts review programmes and has written and presented several arts documentaries for BBC Radio Scotland, Radio 4 and the World Service. He has regularly chaired events at the Edinburgh Book Festival and now does so at the Gothenburg Book Fair in Sweden. He has published an acclaimed biography of William Archer, the theatre critic, close friend of Bernard Shaw and the first to translate Ibsen into English, and was a consultant and contributor to a major Channel 4 documentary on John Osborne. He lives in Stockholm.