Black Magick: The Black Girl Affirmations Coloring Book: The Black Girl Affirmations Coloring Book (Paperback)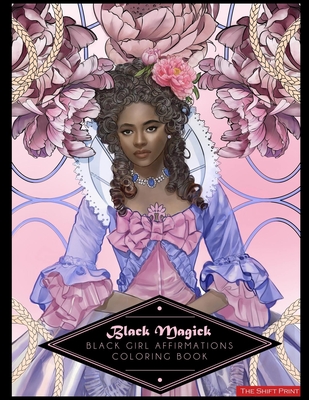 $9.99

Usually Ships in 1-5 Days
Description
---
★ Why Is This Book Necessary For The Black Girls and Women in Your Life?:
We live in the 21st century, yet positive representation for Black girls and women is still rare. One could say it has gotten worse over the years. We see Black women and even girls being painted as the faces of Black protest against white supremacy, and dangerous messages like the abolition of the police. They are placed on the frontlines like a "warrior class," as though they are not vulnerable to violence like women and girls of other races. Even Black male artists have depicted Black girls as monsters, vampires, attacking law enforcement. While this imagery was created to be empowering, in reality, it damages the self-image of Black women and girls, puts their lives at risk, and perpetuates negative stereotypes. They are seen as less feminine, less beautiful beings whose strength rivals that of men, in order to justify inflicting violence on them.
Black girls are praised for being "so strong" a term that can justify their mistreatment because "they can take it." Rarely do we see terms like "beautiful" "innocent" "dainty" "kind" "cute" "smart" "ethereal" etc. generally associated with them. The inability of people to honor these traits in Black women and girls, directly correlates to how they are treated and how they see themselves.
When Black girls and young women log onto certain social media platforms there is no shortage of "trendy" videos meant to devalue, exclude and destroy their self-image. This is largely perpetuated by Black boys and men as disgustingly sad as it is.
The result? Generations of Black girls with low self-worth. Girls who feel they do not measure up. This is the reason many end up settling for less ex. choosing low-quality partners who take advantage of them or pull them down. In the black community, there is a strong focus on Black men and a disregard for Black women and especially girls.
★ Our Mission:
For these reasons and more, we felt the intense need to create this revolutionary book, complete with uplifting healthy and positive messages for Black girls and women. The depictions within include gorgeously hand-drawn multi-faceted expressions of their unique beauty. Each page features a positive, uplifting, and validating affirmation, encouraging black girls to practice actions of self-love, to see that they are more than enough, to put themselves first, and know who they are. There is nothing out there quite like this very special coloring book.
No one needs to hear these messages more than them right now. With this book, we can counter traumatic negative messages and remind black women and girls of how valuable they are. Our goal is to change one life at a time. This book was carefully designed with love and care, we have poured our hearts and souls into it with special attention to words and images Black girls and women really need to see. We want this generation of Black girls and women, and the next, to be healthy, happy, well-cared for, and full of love for themselves.
If you agree with our mission and the need for more positive examples then be the change you want to see. If you are a black woman, a black girl, or someone in your life who is precious to you: ex. daughter, friend, sister, partner etc.
This book is the perfect gift to validate, uplift their spirits, and clear the stress away. Grab this book as a relaxing and beautiful form of relaxation and self-expression, meditate on the affirmations and allow them to sink into your subconscious. Add this book to cart today
★ This Book Features:
- Over 20 gorgeous hand-drawn pages to color
- Black & white full-page artwork
- Printed one-sided
- 8″ x 11″ format (letter size)