1000 Fun Facts for Immature Adults: Random Trivia and Weird Truths You Should Know Vol. 1 (Hardcover)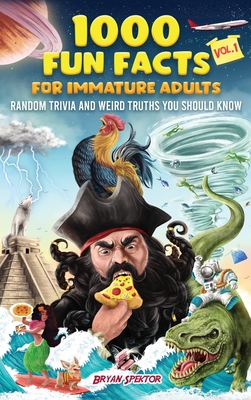 $27.95

Usually Ships in 1-5 Days
Description
---
If you want to flex your brainpower and impress just about everyone, then keep reading...
Did you know that the average adult produces enough saliva in their lifetime to fill two swimming pools?
Or that there's a small town in Central America where fish literally fall from the sky every year?
Adding fun facts to your arsenal can be quite handy, such as when you want to dazzle your date or put an end to that excruciating awkward silence in social gatherings.
At the very least, you can have hours and hours of highly entertaining conversations - just add a little dose of fascinating facts and you're good to go
Inside, here is just a small fraction of what you will discover:
● How to sound like a genius without having to do the hard work
● Seriously fun facts that will give your #adulting life a boost - who says being a grown-up has to be boring?
● Useful information that just may save your life... for instance, discover which fruits are laced with cyanide
● Obscure facts that will help you conquer trivia game night - leave your opponents eating your dust every single time
● 100+ things to know about different cultures around the world - find out unique quirks and blend in with the locals wherever you go
● A treasure trove of cool facts, funny jokes, and even funnier drawings in every single chapter
● The secret to Marilyn Monroe's famous hourglass figure - what did she eat every single morning to maintain her svelte physique?
And much more.
Whether you're into facts that sound too unbelievable (but are definitely true) or random bits about science, history, food, celebrities, your body, and the universe - or perhaps you're just in need of a lifeline for long trips and family reunions - this book has got you covered.
WOW your family and friends and blow their minds with these unforgettable fun facts.