The Grumpy Accountant: One Fed-Up Tax Pro's Practical Plan to Fix Canada's Senselessly Complicated Tax System (Paperback)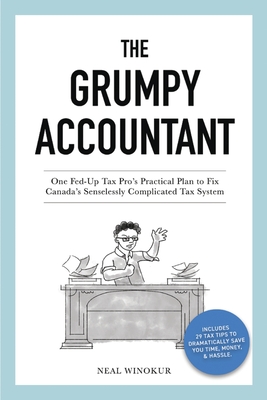 $15.95

Usually Ships in 1-5 Days
Description
---
An entertaining and easy-to-read book about a practical blueprint to simplify Canada's horribly frustratingly overly complicated tax system. The author shares his frustration with a wildly inefficient, impossibly complex and heartlessly impersonal bureaucracy that routinely ensnares honest, hard-working people in its labyrinthine maze. The Grumpy Accountant tells the story of Jerry, a typical Canadian, and George, his trusted grumpy accountant, who guides him through the tax system at every stage in life.
The Grumpy Accountant offers 29 critical tax tips for navigating the current broken system, including:
-How to avoid common mistakes that invite CRA scrutiny
-How to maximize the tax credits, deductions and benefits that you're entitled to
-Tax saving strategies for every stage in life: college/university, employment/self-employment, marriage, kids, entrepreneurship, and retirement
-How to use online tools to keep organized and stay ahead of the game
With an entertaining and easy-to-read style, Winokur reveals a practical, ready-to-implement blueprint for change and simplification. Ready to see what a simpler tax future looks like, while saving serious time, money and heartache now? Let The Grumpy Accountant show you the way.