Tracker Manual: A Practical Guide to Animal Tracking in Southern Africa (Paperback)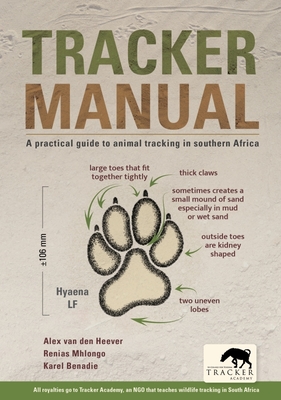 Description
---
Tracker Manual is a revised and expanded edition of a bestselling guide to animal tracking in southern Africa. This practical book has been developed by some of southern Africa's few remaining traditional trackers and draws on centuries-old wisdom acquired in the wild.

This second edition includes an extra 26 species, some 200 new photographs, and new track drawings throughout. Simple bulleted text highlights key features of the tracks of some 200 animals - from predators and large mammals to birds and insects - and, where applicable, their habits, diet, droppings and territorial behavior. Multiple photographs - many annotated - of the animals, their tracks, dung, middens and scrapes, show what signs to look for. Additional features include a handy table of bird track sizes and a table for comparing footprints of animal species that are easily confused. An instructive and wide-ranging introduction covers the latest in track morphology, animal gaits, track age recognition, and the skills and mindset required for successful identification.

This detailed and richly illustrated manual to the region's animal tracks and signs will prove invaluable in the field and for visitors interested in accurately interpreting the most obvious - and not so obvious - signs of the wild.