Meta-Leadership: How to See What Others Don't and Make Great Decisions (Hardcover)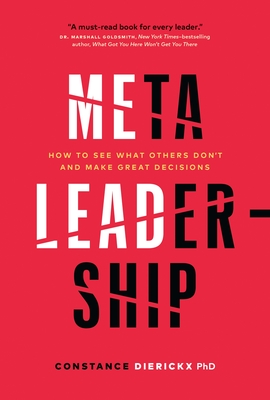 $26.95

Coming Soon - Available for Pre-Order Now
Description
---
Learn to avoid common leadership decision-making traps

Despite what you may think, all top leaders make mistakes, simply because they are human. In fact, the more senior and successful they are, the more susceptible they are to making errors—because as confidence increases, hubris often does as well. But, as internationally recognized leadership and decision-making expert Constance Direickx demonstrates, this doesn't have to be your fate.

In Meta Leadership, Dierickx draws on a vast body of research from psychology and business to show how great leaders can think differently and improve their judgment, for stronger, more profitable results. Incorporating leading-edge data and research on the science of thinking, emotional regulation, and behavior, Meta Leadership offers fascinating stories, incisive insights, and useful takeaways for better leadership and better outcomes.

Dierickx reveals typical patterns of thinking and behavior that trip leaders up, and how you can avoid making potentially costly, sometimes disastrous, decisions. You'll discover how, in split-second decisions, to effectively use a dose of uncertainty to counterbalance overconfidence; how to show courage without being reckless in a crisis; how to demonstrate that different situations call for different types of action; and more. You'll learn how to be a better judge of other people to lead more effectively and empathetically. And just imagine what a 20-percent improvement in decisions on investments could be worth.

Whether you are at the start of your leadership journey or have held a senior leadership role for years, Meta Leadership will arm you with the knowledge and insights you need to achieve the highest results from yourself and your team.
About the Author
---
Constance Dierickx is an internationally recognized expert in high-stakes decision-making who has advised leaders and delivered speeches in more than 20 countries. Founder and president of CD Consulting Group, her clients include Fortune 20 companies, private equity firms, and large not-for-profits around the globe. She is a contributor to Harvard Business Review, Forbes, Chief Executive, and others, and has taught strategic decision-making at Skolkovo Institute of Science and Technology in Moscow, Russia. She lives in Atlanta, Georgia.
Praise For…
---
"A powerful and comprehensive guide to seeing past distortions to make great decisions! Constance Dierickx's expert knowledge combines with actionable advice for a must-read book for every leader."
Dr. Marshall Goldsmith, New York Times–bestselling author, What Got You Here Won't Get You There

"Drawing on research and illuminated by memorable examples, Meta-Leadership shines a needed light on leadership from the inside out."
Dorie Clark, Wall Street Journal–bestselling author, The Long Game

"Meta-leadership is the art of seeing a situation clearly—and without distortion—so you can make the strongest, most sound executive decisions possible. Constance Dierickx should be given a standing ovation for her pioneering work on the subject."
Mark Levy, CEO, Levy Innovation

"The ultimate book on thinking, leading, and making good decisions."
Danny Iny, founder/CEO, Mirasee

"In Meta-Leadership, Constance Dierickx explains that being a wise leader requires the ability to push past simplistic dichotomies by relying on more complex understanding of our thoughts, feelings, and behaviors."
James Detert, PhD, John L. Colley Professor, Darden School of Business, University of Virginia

"Rigorous research illuminated by stories of admirable, and some not-so-great, leaders make Meta-Leadership an essential read for leaders and those who aspire to lead with excellence."
Frances X. Frei, UPS Foundation Professor of Service Management, Harvard Business School

"A groundbreaking, evidence-driven book that helps leaders evaluate and improve their own thinking, emotions, and behaviors. A winner!"
Gleb Tsipursky, PhD, bestselling author, Never Go With Your Gut