How to Listen: Discover the Hidden Key to Better Communication (Paperback)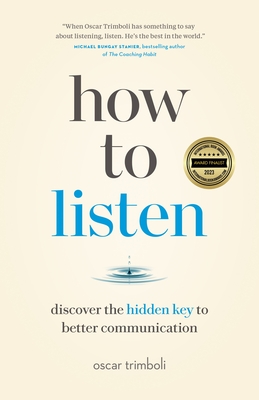 $17.95

Usually Ships in 1-5 Days
Description
---
If you want to be heard, you need to know how to listen?

Communication isn't all about what you say. It's about what you hear, what you notice, and how you respond. In short: it's about how you listen. And despite leaders spending eighty-three percent of their day listening, only two percent of them have ever been trained in how to listen effectively?

At a time when we are more technologically linked than ever, our conversations have never been more distracted and disconnected—because most don't know how to truly listen?

The result? You constantly fight to be "heard" over all the noise and distraction. You feel frustrated, confused, ignored, and feel like no one is paying attention. You are drained and tired of repeating yourself. Work conversations take longer than necessary because most people only listen to fourteen percent of what the speaker thinks and means.

In How to Listen, Oscar Trimboli, host of the Apple-award-winning podcast Deep Listening, shows you how to unlock your listening superpowers. Trimboli shares practical and pragmatic insights to help you notice when you aren't listening—and what to do about it?

When you understand the art and science of listening, you'll master the missing half of communication—and create a more powerful impact in your workplace and beyond.
About the Author
---
Oscar Trimboli is an author, host of the Apple award-winning podcast Deep Listening, and a sought-after keynote speaker. He is passionate about using the gift of listening to bring positive change in homes, workplaces, and cultures around the world.
Through his work with chairs, boards of directors, and executive teams in local, regional, and global organizations, Oscar has experienced firsthand the transformational impact leaders and organizations can have when they listen beyond the words.

He believes that leadership teams need to focus their attention and their listening on building organizations that have impact and create powerful legacies for the people they serve—today and, more importantly, for future generations.

Oscar is a marketing and technology industry veteran with over thirty years' experience across general management, sales, marketing and operations for Microsoft, PeopleSoft, Polycom, Professional Advantage and Vodafone.

He consults with organizations including Air Canada, AstraZeneca, BAE Systems, CBRE, Cisco, Commonwealth Bank, Energy Australia, Estia Health, Google, HSBC, IAG, Macquarie Bank, Microsoft, PayPal, Qantas, Reebok, SAP, and TAL.

Oscar lives in Sydney with his wife, Jennie, where he helps first-time runners and ocean swimmers conquer their fears and contributes to the cure for cancer as part of Can Too, a cancer research charity – www.cantoo.org.au.
Praise For…
---
"When Oscar Trimboli has something to say about listening, listen. He's the best in the world."
Michael Bungay Stanier, bestselling author of The Coaching Habit and How to Begin

"The most powerful leadership tool in my personal and professional life is the power of listening—truly listening to create the most remarkable connection with my family, colleagues, customers, and community partners. How to Listen provides valuable insights into how we can strengthen our communication and improve our listening approach in a practical and meaningful way."
Naysla Edwards, vice president brand, charge cards, & member experience, American Express

"A powerful way to reimagine leadership, this book made me realize how much more we can use listening to build high-performance workplace cultures."
Zoe Hayes, head of B2C marketing, consumer apps, & sport partnerships, AUNZ at Google

"How to Listen is the missing piece in executive communications with practical and actionable tips to make us better listeners and, ultimately, better leaders. This book is a must for mastering communication skills in the twenty-first century."
Joanna Stephens Kramer, head of communications and public affairs, Johnson & Johnson MedTech

"When it comes to designing a strategy, a campaign, or liberating an idea, the most overlooked step is listening. How to Listen is a timely reminder of the impact that listening has."
Nicole Taylor, senior vice president and head of LEGO Agency

"Exploring a potent yet overlooked leadership competency, How to Listen is a pragmatic addition to an executive library."
Stephen Johnston, senior client partner, Korn Ferry

"Oscar Trimboli amazed me by deconstructing how to listen into simple actionable concepts that help my ear see better."
Maria Del Pilar Martin-Matos, medical director, Sanofi

"An excellent book that provides practical tips and useful exercises to encourage a conscious effort to improve one's listening skills. Incredibly beneficial for leaders who work across different countries and cultures where there is a need to decode what's unspoken."
Stephane Asselin, chief executive, Asia, Aurecon

"For a leader and executive, what is the cost of not listening? Trimboli brings to life the opportunity of listening with real stories that resonate alongside pragmatic insights and techniques to practice key skills. Learning how to listen has made the biggest impact on my team, organization, and career."
Kerri-Anne Loring, executive general manager, business service, Downer

"How to Listen creates a pragmatic, professional, and powerful framework to hear what matters before it's too late and very expensive. If you care about ROI, listening is your secret weapon."
Oscar Ledezma, global corporate development & M&A, The Clorox Company

"I will return to How to Listen regularly, as I seek to improve and build upon my ability to truly listen. Give yourself the time to internalize Trimboli's valuable insights and the space to practice the helpful exercises and examples. A valuable resource for anyone looking to be a better listener."
Susan McMahon, CEO, TEDXSydney

"Finally a book that combines the art and science of listening in the workplace. It quickly helped me discover my listening barriers, and now I'm a better leader for my team and customers."
Marc Monday, vice president, global strategic partnerships, Sage


"How to Listen is the missing piece in the jigsaw puzzle of corporate communication. You can apply its potent and practical techniques immediately whether with the media, investors, or executive teams."
Susannah Clark, senior vice president, communications, Farfetch

"For board directors, listening is perhaps the most essential skill. No matter how good your listening skills are—and reading How to Listen will make you realize that your listening skills aren't necessarily as good as you like to think—Trimboli's insights and practical advice will take your listening to the next level."
Jennifer Lang, independent non-executive director and actuary

"As a brand owner, listening—to your shoppers, your customers, your associates, and yourself—is critical for your future growth. Trimboli teaches you how to listen and most importantly how to act on these insights. Transformational!"
Gina Head, brand director, Mars

"By far, the best speakers are the best listeners. The definitive book on how to actually improve your listening, How to Listen is a fantastic resource to become a more effective leader. Trimboli breaks down what it takes to listen well, learn well, understand better, and empathize more. All critical skills at work and home."
Jon Yeo, head of curation, TEDXMelbourne

"Based on deep research, How to Listen is the lesson we all wish we had in school. Trimboli breaks down the process and allows you to digest it easily. This book could make you a better version of yourself. Buy one, and gift one."
Jane Huxley, chief executive officer, ARE Media

"Becoming a great leader is not about you. It's about them. Only when you know how to truly listen to them do you deserve the honor of leading them. This wonderful book will show you how."
Sherilyn Shackell, founder & global CEO, The Marketing Academy