The Ballad of Ginger Goodwin and Other Plays (Paperback)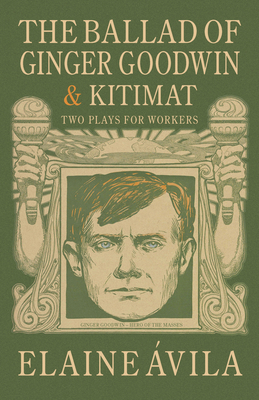 $19.95

Coming Soon - Available for Pre-Order Now
Description
---
Three epic, large-scale plays, all based on true events. In The Ballad of Ginger Goodwin, discover how Canada got the eight-hour day; in Lieutenant Nun, read the autobiographical story of one of the first trans writers in history, a nun turned conquistador; and finally in Kitimat, visit the fastest declining town in Canada, whose residents are suddenly offered a deal by Big Oil. The plays are the recipient of many awards, including the Mellon Foundation Environment Arts Commission, and Best New Play, Audience Favourite, Best Production Awards from the Victoria Fringe and Victoria Critics Circle. They have been performed from Los Angeles, California, to Lisbon, Portugal.
The Ballad of Ginger GoodwinWith a cast playing everyone from a radical socialist to an Italian laundress to a scientist-industrialist, The Ballad of Ginger Goodwin is about the dreams of immigrants, coal and smelter workers in Canada and the Pacific Northwest, and the battle for workers' rights. Featuring music of the period, including a new ballad by composer/activist Earle Peach, the play recreates the events surrounding the mysterious death of Albert "Ginger" Goodwin, who, through a strike at a Canadian zinc smelter in Trail, BC, brought the WWI British war machine to a halt.
Lieutenant NunIt's the seventeenth century, the armies of Spain are slaughtering their way across the New World, and one renowned conquistador, Antonio de Erauso, is famed for his ferocity - until, on trial for murdering his own brother, facing execution, Antonio pleads for clemency by revealing that he's actually ... an escaped nun. Imprisoned and enchained, haunted by the ghosts of the slain, Lieutenant Nun confesses the story that has been kept secret for so long ... "There is no name for what I am. You would have to make a new word."
Kitimat
Kitimat, British Columbia: an industry town in glorious wilderness finds itself the center of international controversy when the town is asked to vote no or yes on an upcoming oil pipeline project. As election day approaches, the residents of Kitimat struggle to decide between economic prosperity or protection of the natural world.