You Will Remember Me (Paperback)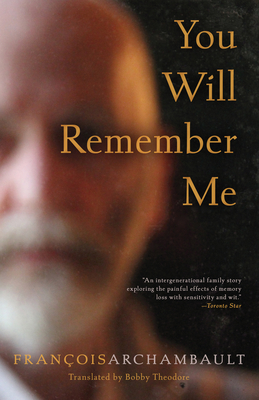 $18.95

Usually Ships in 1-5 Days
Description
---
Memory - personal, familial, and societal - is the central theme of this new play by Governor General's Award-winning playwright Fran ois Archambault. Translated by Bobby Theodore, this work follows a family's struggle with dementia. Edouard is a university professor and historian, a figure prominent in the public eye, and a long-time sovereignist. He has been proud throughout his life of his prodigious memory. As memory fails, Edouard tests the ability of family members to care for him. The play also examines collective memory and the current state of affairs in Quebec. Edouard has been appearing on talk shows since his retirement, railing against the dumbing down of society and the adverse effects of technology. Archambault uses personal memory as a foil and metaphor to explore social memory, particularly re-examining moments from the history of the Parti Qu b cois. Subtle, moving, and funny, You Will Remember Me shows that living completely in the present moment is a nightmare. Hearkening to the past, and memory, are essential for the human condition. You will Remember Me opened in French in 2014 and was produced in English in 2015 at the Tarragon Theatre in Toronto. Cast of 2 men and 3 women.
About the Author
---
Francois Archambault: Francois Archambault graduated from the playwriting program at the National Theatre School of Canada in 1993 and has also completed a major in French Studies at the Universite de Montreal. Between 1989 and 1998, he wrote 12 plays and his work appeared in seven anthologies. His 1992 play "Le jour de la fete de Martin" was among the 13 finalists selected in the Concours Val en Scene in Valenciennes, France, and received a special mention from the jury. In October 1995, Archambault completed within three weeks "Si la tendance se maintient," a play about the referendum on Quebec sovereignty. It ran during the referendum campaign and was enthusiastically received by critics. Archambault secured his reputation as a sharp social satirist with his earlier plays "Cul sec" (Fast Lane) and "Les gagnants" (The Winners) and further established his importance on the Quebec theatre scene with the award-winning "15 Seconds," a darkly humorous play about social alienation arising from superficial relationships. "15 Seconds" has had staged readings and productions in English translation across Canada and the U.K. "The Leisure Society," one of Archambault s most recent plays, was performed in Calgary, Toronto, and Vancouver in the 2005-06 season.

Bobby Theodore: Bobby Theodore lives in Montreal and is a graduate of the National Theatre School of Canada s playwriting program. His first translation, Francois Archambault s "15 Seconds," was produced across Canada and earned him a nomination for the Governor General s Award for Literary Translation in 2000. Since then, he has gone on to translate more than 12 plays, including the works of some of Quebec s most talented playwrights, such as Genevieve Billette and Nathalie Boisvert."