Nature's Wild Ideas: How the Natural World Is Inspiring Scientific Innovation (Hardcover)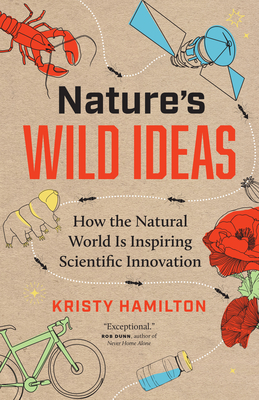 Description
---
A lively and endlessly fascinating deep-dive into nature and the many groundbreaking human inventions inspired by the wild.
"Delightful."-The Guardian
"Fans of Helen Scales won't want to miss this."--Publishers Weekly STARRED Review
When astronomers wanted a telescope that could capture X-rays from celestial bodies, they looked to the lobster. When doctors wanted a medication that could stabilize Type II diabetic patients, they found their muse in a lizard. When scientists wanted to drastically reduce emissions in cement manufacturing, they observed how corals construct their skeletons in the sea. This is biomimicry in action: taking inspiration from nature to tackle human challenges.
In Nature's Wild Ideas, Kristy Hamilton goes behind the scenes of some of our most unexpected innovations. She traverses frozen waterfalls, treks through cloudy forests, discovers nests in the Mojave desert, scours intertidal zones and takes us to the deepest oceans and near volcanoes to introduce us to the animals and plants that have inspired everything from cargo routing systems to non-toxic glues, and the men and women who followed that first spark of "I wonder" all the way to its conclusion, sometimes against all odds.
While the joy of scientific discovery is front and center, Nature's Wild Ideas is also a love letter to nature--complete with a deep message of conservation: If we are to continue learning from the creatures around us, we must protect their untamed homelands.
About the Author
---
Kristy Hamilton is a science journalist who has written for WIRED, Science Magazine, Hakai Magazine, Business Insider, and other publications. Her WIRED article was featured on the website's front page as a "Today's Picks." When she's not on the road, she lives in San Francisco, CA.