The Inner Life of Animals: Love, Grief, and Compassion--Surprising Observations of a Hidden World (Hardcover)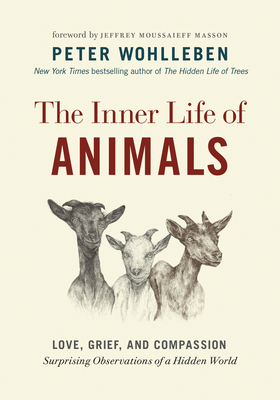 Description
---
From the New York Times-bestselling author of The Hidden Life of Trees.
"The Inner Life of Animals will rock your world. This book shows us that animals think, feel and know in much the same way as we do."--Sy Montgomery, bestselling author of The Soul of an Octopus
Through vivid stories of devoted pigs, two-timing magpies, and scheming roosters, The Inner Life of Animals weaves the latest scientific research into how animals interact with the world with Peter Wohlleben's personal experiences in forests and fields. We learn that horses feel shame, deer grieve, and goats discipline their kids. Ravens call their friends by name, rats regret bad choices, and butterflies choose the very best places for their children to grow up.

In this captivating book, Peter Wohlleben follows the hugely successful The Hidden Life of Trees with insightful stories into the emotions, feelings, and intelligence of animals around us. Animals are different from us in ways that amaze us--and they are also much closer to us than we ever would have thought.
"Wry, avuncular, careful and kind. . . Each story adds to a widening vision of intelligence, emotion and relationship."--The Guardian
Published in Partnership with the David Suzuki Institute
About the Author
---
Peter Wohlleben is the author of the New York Times bestseller The Hidden Life of Trees. and its follow-ups, The Inner Lives of Animals and The Secret Wisdom of Nature. His books for children include the middle-grade nonfiction book, Can You Hear the Trees Talking? and the picture book, Peter and the Tree Children. He is a natural storyteller who writes on ecological themes, and manages a municipally owned, environmentally friendly woodland in Germany. Jeffrey Moussaieff Masson is the author of numerous books, including the New York Times bestsellers When Elephants Weep and Dogs Never Lie about Love. He is fascinated by the richness of the emotional world of animals and by what animals can teach us about ourselves. To learn more about Peter and his books, visit his website at peterwohllebenbooks.com.Jane Billinghurst's career has been in book publishing in the UK, the US, and Canada, as an editor, publisher, writer, and translator. She is the translator of the international bestseller The Hidden Life of Trees by German forester Peter Wohlleben.