Showa 1939-1944: A History of Japan (Paperback)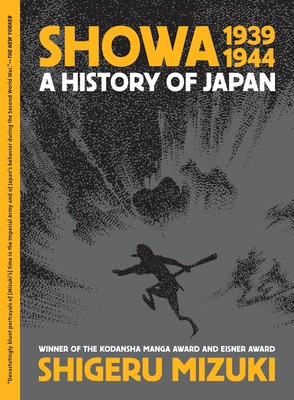 $29.95

Usually Ships in 1-5 Days
Description
---
An Internationally-renowned cartoonist and reluctant war vet details Japan's involvement in World War II

Showa 1939-1944: A History of Japan continues Eisner award-winning author Shigeru Mizuki's historical and autobiographical account of Japanese life in the twentieth century. This volume covers the devastation of the Sino-Japanese War and the first few years of the Pacific War–a chilling reminder of just how harsh life in Japan was during this hostile era. Pivotal events like the attack on Pearl Harbor are reframed as part of a larger context detailing the country's brutal military expansion into Southeast Asia and elsewhere. Its effects on the otherwise unseen Japanese populace similarly come to the fore.

On a personal level, these years mark a dramatic transformation in Mizuki's life too. His idyllic youth in the countryside comes to an abrupt halt when he is conscripted into the Imperial Japanese Army against his will. On the tiny island of Rabaul in Papua New Guinea, a constant struggle for survival ensues. Not only must he fend off attacks from Allied forces, but from the harsh discipline of his own commanding officers too. It is here that Mizuki comes to understand the misery and beauty of the island itself, a place that will permanently mark and haunt him for the rest of his life.
About the Author
---
Born March 8, 1922 in Sakaiminato, Tottori, Japan, Shigeru Mizuki is a specialist in stories of yokai and is considered a master of the genre. He is a member of the Japanese Society of Cultural Anthropology, and has traveled to more than sixty countries around the world to engage in fieldwork on the yokai and spirits of different cultures. He has been published in Japan, South Korea, France, Spain, Taiwan, and Italy. His award-winning works include Kitaro,Nonnonba, and Onward Towards Our Noble Deaths. Mizuki's four-part autobiography and historical portrait Showa: A History of Japan won an Eisner Award in 2015.