1942: the year the war came to Australia: The bombing of Darwin and the attack on Sydney by the Japanese (Paperback)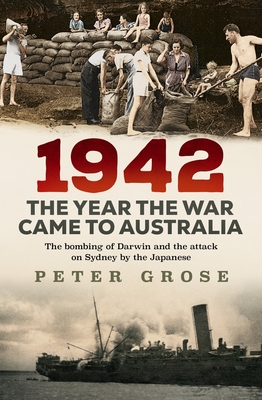 $26.95
Email or call for price
Description
---
The story of the bombing of Darwin and the Japanese midget sub attack on Sydney Harbour in one volume from the author of An Awkward Truth and A Very Rude Awakening.

'Grose's compassionate, honest and vivid account deserves to be widely read.' Sun Herald on An Awkward Truth

'About as good as any yarn can get . . . a great retelling of a great story.' Sydney Morning Herald on A Very Rude Awakening

Originally published as An Awkward Truth and A Very Rude Awakening

The bombing of Darwin by the Japanese on February 19, 1942 was the first wartime assault on Australian soil. The Japanese dropped more bombs on Darwin, killed more civilians in Darwin and sank more ships in Darwin than Pearl Harbor.

Three months later, on May 31, 1942, three Japanese midget submarines crept into Sydney Harbour and caused an unforgettable night of mayhem, high farce, chaos and courage. The war was no longer confined to distant deserts and jungles. It had well and truly come to Australia.

Absorbing, spirited and fast-paced, 1942: the year the war came to Australia tells the story of the under-armed and unprepared soldiers and civilians who faced their toughest test on home soil.
About the Author
---
Peter Grose is a former journalist, literary agent and publisher. He has published four highly acclaimed books with Allen & Unwin, An Awkward Truth, A Very Rude Awakening, A Good Place to Hide and Ten Rogues in a Boat. He lives in France.
Praise For…
---
Praise for A Good Place to Hide:

"A beautifully written tribute to their community and an outstanding contribution to Holocaust literature."
- Booklist (starred review)

"Peter Grose tells this story well. It reads like a thriller, but it is a well-researched book ... an excellent addition to history collections in all libraries."
- The Jewish Book Council

"Peter Grose's tale of the astounding 'rescue village ' of Le Chambon is not what you think it would be: no sentimental yarn of deliverance of all those the Nazi regime had in their sights, but a tale of practically delivered salvage of the hunted. It is a story resonant in our days, the age of refugees, and a grand narrative in its own right, all told with absorbing narrative skill. A book to cherish and recommend!"
- Thomas Keneally, Booker Prize-winning author of Schindler's List

"Inspiring. In chronicling the daring activity that went on for years, Grose keeps readers on edge with a heartwarming story of ordinary heroes who just did what was required."
- Kirkus Reviews

"Grose tells the inspiring story of courageous villagers, determined church leaders, and persecuted refugees in a journalistic style that many readers will enjoy. The bravery and scale of the housing operations were remarkable. Recommended for general audiences with an interest in World War II history and narrative."
- Library Journal

"Combines solid historical research with the tension of a spy novel. In the vein of Schindler's List, A Good Place to Hide is an inspiring account of the extraordinary courage of ordinary people."
- Shelf Awareness