The Last Lions of Africa: Stories From the Frontline in the Battle to Save a Species (Paperback)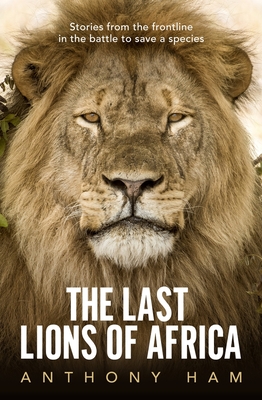 $17.95

Usually Ships in 1-5 Days
Description
---
An incredible and moving account of one man's journey into the world of lions, why they are fast disappearing and what can be done to save them from extinction and thus save Africa, whose delicate ecosystem depends on these apex predators to keep everything in balance.

'Bravely pursued, acutely observed and elegantly told.' John Vaillant, author of The Tiger

'Urgent and important. This moving tale with a heroic cast of characters, leonine and human, is a must-read for anyone passionate about wildlife and wild places.' Tony Park, author of Last Survivor

This is the riveting and illuminating story of Australian writer Anthony Ham's extraordinary journey into the world of lions. Haunted by the idea that they might disappear from the planet in our lifetime, he ventured deep into the African wilderness, speaking to local tribespeople and activists as well as to rangers, scientists and conservationists about why lions are close to extinction and what can be done to save them.

In The Last Lions of Africa, we walk alongside Anthony as he reveals the latest extraordinary science surrounding the earth's dwindling lion populations and their often surprising relationship to mankind. As he uncovers heartbreaking and astonishing accounts of individual lions, prides and habitats, each chapter unfolds as both gripping campfire story and deeply researched exploration of larger mysteries in the natural world.

Anthony's vivid storytelling weaves together natural history, ancient lore and multidisciplinary science to show us a world in which human populations are growing and wild lands are shrinking; where lions and indigenous peoples fight not for sovereignty over the land but for their very existence. In this gripping and crucial book, Anthony Ham brings Africa, its people and its endangered lions to magnificent life and shows the surprising ways those last lions might be saved.
 
About the Author
---
Anthony Ham is a freelance writer and photographer who, over the last eighteen years, has built a reputation as a trusted guide and expert companion for a generation of adventurous readers and safari travelers. A veteran nature and travel writer, Anthony's work has appeared in newspapers and magazines in Australia and worldwide, including The Age, The Sydney Morning Herald, The Monthly, Virginia Quarterly Review (VQR), National Geographic Traveler, BBC Wildlife, Lonely Planet Magazine, Africa Geographic, The Independent, Travel Africa, and others.

Anthony has written more than 100 guidebooks for Lonely Planet. In doing so, he has become a trusted name, both for editors - in nearly twenty years as a writer, Anthony has never submitted work late, and has become Lonely Planet's go-to writer for difficult assignments - and for readers whose lives depend on him getting the facts right. His titles include bestselling guides to Kenya, Tanzania, East Africa, and Botswana & Namibia. Since the beginning of 2016 alone, guidebooks he has written have sold more than 125,000 copies worldwide.