Lonely Planet's Guide to Travel Writing: Expert Advice from the World's Leading Travel Publisher (Paperback)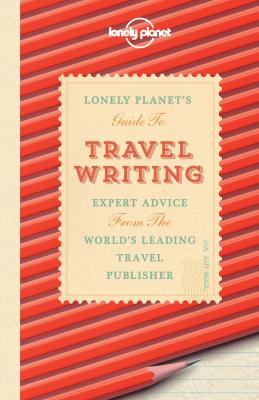 Description
---
Lonely Planet: The world's leading travel guide publisher*
Written by a pre-eminent travel writer and bursting with invaluable advice, this inspiring and practical guide is a must for anyone who has ever yearned to turn their travels into saleable tales. Packed with insider hints and tips, practical writing exercises and examples of travel writing excellence, this guide helps bring the dream job of Travel Writer within scribbling distance of reality.
Includes contributors:
Writers: Andrew Bain, Tim Cahill, Paul Clammer, George Dunford, Pico Iyer, Rory MacLean, Daisann McLane, Danny Palmerlee, Margo Pfeiff, Rolf Potts, Alison Rice, Anthony Sattin, Stanley Stewart, Mara Vorhees
Magazine & Online Editors: Keith Bellows- National Geographic Traveler, Jim Benning- World Hum, Anthony Dennis- Travel + Leisure Australia & New Zealand, Lyn Hughes- Wanderlust, Jonathan Lorie- Traveller, Sarah Miller- CondA(c) Nast Traveller
Newspaper Travel Editors: Simon Calder- The Independent, Ed Grenby- The Sunday Times Travel Magazine, Catharine Hamm- The Los Angeles Times, Robert Upe- The Age
Agents: Lizzy Kremer- David Higham Associates Ltd, Amy Rennert- Amy Rennert Agency
Discover the secrets of crafting a great travel story
Learn how to conduct pre-trip and on-the-road research
Develop effective interviewing techniques
How to get your name in print (and money in your bank account)
Insights on the quirks of writing for newpapers, magazines, online and books
Includes extensive listings of writers' resources & industry organisations
About Lonely Planet: Started in 1973, Lonely Planet has become the world's leading travel guide publisher with guidebooks to every destination on the planet, as well as an award-winning website, a suite of mobile and digital travel products, and a dedicated traveller community. Lonely Planet's mission is to enable curious travellers to experience the world and to truly get to the heart of the places where they travel.
TripAdvisor Travellers' Choice Awards 2012 and 2013 winner in Favorite Travel Guide category
'Lonely Planet guides are, quite simply, like no other.' - New York Times
'Lonely Planet. It's on everyone's bookshelves; it's in every traveller's hands. It's on mobile phones. It's on the Internet. It's everywhere, and it's telling entire generations of people how to travel the world.' - Fairfax Media (Australia)
*#1 in the world market share - source: Nielsen Bookscan. Australia, UK and USA. March 2012-January 2013