Traditional Scottish Songs for Guitar: 12 Scottish folk songs arranged for acoustic, fingerstyle and classical guitar each song arranged for beginner (Paperback)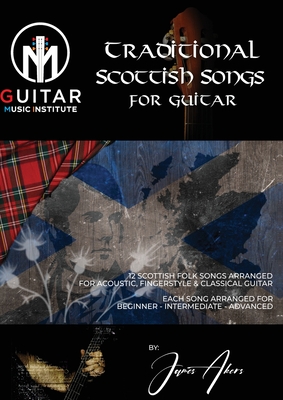 $16.95

Usually Ships in 1-5 Days
Description
---
A collection of some of the most well known and loved songs from Scotland arranged for guitar by internationally renowned Scottish guitarist James Akers. Each song is offered at beginner, intermediate and advanced levels.
The songs included in this book of Scottish folk songs are as follows:
Ae Fond Kiss
Ca' the Yowes
Comin' Thro' the Rye
Green Grow the Rashes
I Once Loved a Lass
My Love is Like a Red, Red Rose
Neil Gow's Lament for the Death of his Second Wife
The Bluebells of Scotland
Flowers o' the Forest
The Skye Boat Song
Wild Mountain Thyme
Ye Bank and Braes o' Bonnie Doon
All songs are notated in both music and guitar TAB notation; if you cannot read music, you can still play all the songs. The advanced arrangements in this book have been written in a style based around the work of contemporary folk guitarists like Tony McManus, Stephen Wake and Ian Melrose. In this style, traditional melodies are combined with elements from other genres.
To complement this title, a special free download has been created which includes a PDF of all the chords (in full color) and the lyrics for the beginner versions. Details on how to get the download are within the book.
Without doubt, James Akers has created a book of music that can be used by an individual or with a guitar teacher. If you love Scotland, and you love guitar, then this is the book for you.