Guitar Exam Exercise Book: Classical, Acoustic & Fingerstyle Guitar Styles Grades 1 - 5 and beyond (Paperback)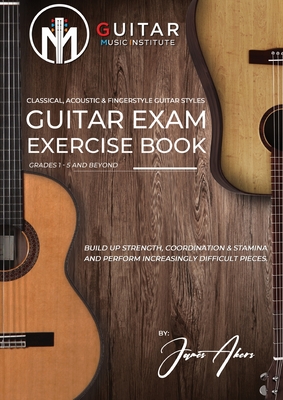 $19.95

Usually Ships in 1-5 Days
Description
---
GUITAR EXAM EXERCISE BOOK INTRODUCTION
For guitarists looking to further their playing technique and/or who are preparing for ABRSM, Trinity, Guildhall or indeed any classical/fingerstyle guitar exam, this book is for you. Created by virtuoso guitarist and conservatoire lecturer James Akers, this guitar manual has been created to help players develop their technique to help ensure performing success, not least in the preparation for grade exams.
The exercises and studies in this book are graded to correspond to the technical demands required of each grade from 1 to 5, in both classical and acoustic guitar syllabuses. A section with more advanced techniques is included towards the end of the book.
Instructions, including fingerings and tips for success are included. All examples are given in both staff notation and TAB. Although largely corresponding to the various grading systems available, this book can be used by anyone as a means of improving their guitar technique.
BOOK CONTENT 85 exercises & 16 studies grade 1 to grade 5 and beyond covering:
GRADE 1 - The exercises for grade 1 are intended to help the guitarist in the early stages of their development build up their finger strength, improve their coordination, tone production, speed, and accuracy.
GRADE 2 - The exercises for Grade 2 extend and consolidate the ideas introduced in Grade 1, providing more material to allow the evolving guitarist to improve their technique in a systematic way.
GRADE 3 - New techniques are introduced, including slurs, (or hammer-ons and pull-offs) and natural harmonics. In addition, as well as exercises, there are several specially composed study pieces, in a variety of styles, to allow the techniques learned so far to be practised in a more musical context.
GRADE 4 - Common descending arpeggio pattern across three strings, 4 note chords using all right-hand fingers, multiple slurs, or hammer-ons and pull-offs, in various finger combinations including open strings and multiple fretted notes, the half-barre technique for the left hand.
GRADE 5 - Ascending arpeggio patterns, speed & rhythmic pattern exercises, left hand workouts with repeated patterns, mixed ascending/descending slur patterns, full barre technique
BEYOND GRADE 5 - Tremelo technique, natural harmonics in exercise and within a study.
STUDIES
Sixteen original studies are provided for grades 3 onwards:
GRADE 3 - Six studies individually demonstrating various left hand finger combinations, two part chordal textures, three part chords, ascending slur and hammer on techniques,
GRADE 4 - Four studies individually demonstrating arpeggio playing, three and four part chordal performance, half barre in a musical context, ascending and descending slurs, playing in complex time signatures, introducing natural harmonics.
GRADE 5 AND BEYOND - Six studies individually demonstrating arpeggio playing, slur exploration, speed study, thick textured chordal playing, tremelo study, artificial harmonics in melodic scenario.
DOWNLOAD
All exercises and studies have been recorded by James Akers and are included as a free download to accompany this book. Details of how to access the free download are detailed within the publication.