The King's Sword: The First Novel of The Metzlingen Saga (Paperback)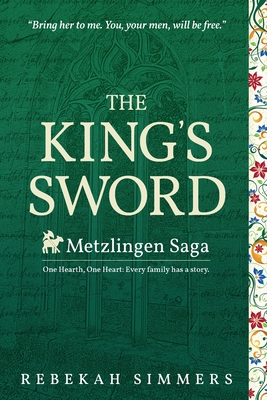 $15.99

Usually Ships in 1-5 Days
Description
---
1479 Matthias is no hero. He's no one. Simply another mud-spattered baseborn face among thousands, until an act of kindness aligns him with an extraordinary opportunity. His prince fallen in battle, Matthias is entrusted to retrieve a foreign princess as a bride for his king, in exchange for a second chance at a promised reward. Given the honor of wearing his sword in his king's name, Matthias is hellbent to keep his word. His king - his brothers - are counting on him. And soon, so will she.
Princess Avelina has nothing. And no one. Since the death of her parents shattered her world, Avelina has lived as a political pawn, having been degraded, disinherited, and defined by others. When a mysterious soldier arrives at her bridal barter, Avelina dares to hope - could this be the chance of escape she's been praying for?
Their paths intertwined, the soldier and princess embark on a journey that will change both of their lives forever. Plagued by self-doubt, rocked by betrayals, haunted by faltering faith and forbidden feelings that test their loyalties, they'll learn the hardest fought battles are often those waged within themselves.
​​​​​​​An irresistible blend of historical fiction, adventure and romance, The King's Sword is the first novel of the Metzlingen Saga. From soaring Alps to crumbling ruins, welcoming hearths to calculating courts, this love story, nestled within the German landscape of the Renaissance, honors friendship, found family and the lengths we go to for those we love.