The Saddest Dog Finds a Friend (Paperback)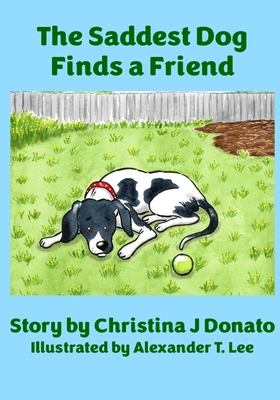 $12.99
Email or call for price
Description
---
A mixture of fact and fiction about the author's dog, Belle. Belle is happy at first. She has many adventures and mishaps. Eventually, her family becomes too busy for her, so she learns to play by herself. This makes her incredibly sad.
One day she ventures out through an open gate, running towards a group of playing children. One of the children, the curly-haired boy, removes Belle's ID tags and takes her home. Now, if only he had a new bicycle, his life would be perfect.
The boy sees "Lost Dog" posters offering $500 for Belle's return. With that money, he can buy a bicycle. The boy is torn between having a dog and having a new bike. However, his birthday is coming up soon, so he will get a bicycle then.
To his great disappointment, the curly-haired boy does not get a bike for his birthday because of the expense of keeping Belle.
Although Belle is treated well by the boy and his parents, she misses her family. This causes her to whine at all hours, to the annoyance of the boy's parents. The boy's mom says the dog must go.
The curly-haired boy comes clean about having dognapped Belle. His mom is furious. Belle is returned to her family, who is now repentant about neglecting her.
The curly-haired boy's parents will not let him take the reward money. Belle's family is nice enough to allow the boy to play with Belle on a regular basis. The boy is happy to be able to still have Belle in his life but is upset he doesn't get the reward to buy a new bicycle.
The story ends with the author asking the reader, "Of course, without the reward he did not get a new bicycle. But I don't think he deserves it. Do you?"