Financial Dominance (Paperback)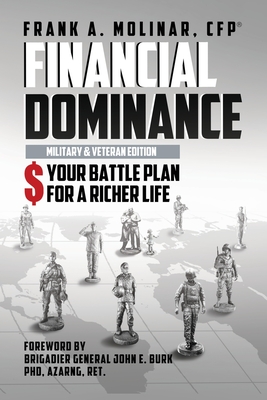 $26.95

Usually Ships in 1-5 Days
Description
---
Your financial potential is bigger than your dreams
Financial Dominance proves it. Get tracking with the most engaging finance training ever developed for the military and those who appreciate them. No boring jargon, disjointed "good" ideas, gimmicks, or tired old adages. Leveraging military strategy, decades in business, thousands of 1:1 interactions, and the coolest full color illustrations you've ever seen, the author brings a fresh perspective and a clear sense of urgency to laser your efforts for maximum impact
This battle plan simplifies and prioritizes your tasks so you know exactly what to do, when to do it, why you're doing it, how to get it done, and even how long it'll take to fast track you towards your true potential. Stop living on the edge of financial ruin and just getting by, it's time to build a bigger life Do you think you're doing well? Financial Dominance will show you how to do better. And the real-life case studies will help you bring the insights home. You'll learn:
The first rule of money and the beginning of all financial wisdom.
The reason paying off debt too soon doesn't work and how to permanently eliminate it
Your Tactical Wealth and SOAR Protocols for building a richer life than you've dared imagine possible.
It's not a game plan, it's a battle plan. Because this ain't a game and you don't want to lose this fight
Financial Dominance is your must read. Own it. Share it. And help spread the news so our service members and veterans can enjoy the prosperity and freedoms they've dedicated their lives to protect.