Porkington Hamm and the Lost Gold (Paperback)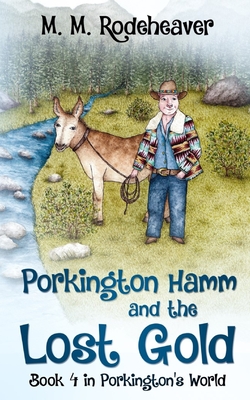 $10.99

Usually Ships in 1-5 Days
Description
---
From the award-winning author of Porkington Hamm:
"It looks like a map." Porkington's eyes widened. "A treasure map "
Porkington needs extra cash. He wants to leave the winter weather behind.
When he discovers an old treasure map - and is offered a free plane ticket to New Mexico - his search for gold begins.
But out in the wilderness, you're just a part of the food chain. Porkington doesn't trust the crew from Hector's Happy Trails, especially the mysterious One-Eyed Jack. And did someone mention snakes?
With all the danger the high desert holds, will Porkington make it home alive?
Hit the trail with Porkington Hamm and Duncan the donkey in Porkington Hamm and the Lost Gold, book 4 in Porkington's World.
Discover these other books in Porkington's World:
Porkington Hamm
Life is a struggle for Porkington after he's transformed from a piglet to a person. But someone is stalking him, and when his friends leave town Porkington finally meets his mysterious enemies. Will they convert him back into a pig? Or worse?
Porkington Returns
Swinson has a secret. He left a brother behind, and now his brother's life is threatened. Porkington and Swinson embark on a daring rescue mission, and find more trouble where they least expect it.
Bonny's Debut
Bonny can't wait to be independent - until Porkington and Swinson leave her alone for the summer. Everything goes well until suddenly everything doesn't Can she get by with a little help from her friends?