Poems for the People (Paperback)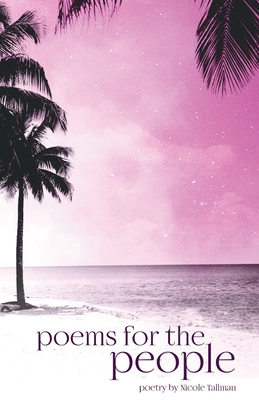 $10.00

Usually Ships in 1-5 Days
Description
---
"Nicole Tallman's
Poems for the People
is a gorgeous and tender love song for all of us -- the grievers, the poets, the stricken and the soft. Tallman's poems highlight the beauty and heartbreak we live through, but also examine and expand what it means to truly relate with others, to know us in a way that only a friend can: by holding us together in her esteem."
--- JARED BELOFF, AUTHOR OF WHO WILL CRADLE YOUR HEAD
"These poems especially excel at one of my favorite things poems can do-they open up a dialogue, they start a conversation. And, like a good conversationalist, they ask you questions, they tell you about themselves, they braid together the languages of the philosophical, surprise, and the quotidian. They look you in the eye and ask you how you feel. They're poems for The Astro Poets and soft boys, for Sylvia Plath and people who say they don't pray. For poets and lovers of poetry and people who don't like poems. They're poems for Nicole herself and also for you. Poems for all of us. What a gift."
--- AARON BURCH, AUTHOR OF YEAR OF THE BUFFALO
"In this ambitious yet graceful collection, Nicole Tallman is quick to tell (nay, show) us what she is about. Uncommonly confident, Tallman asks what happens when we 'wade out way too far' while in the same breath lauding the 'plain talk' of poems, the girls she 'wanted to hug a little too long.' Written with a deft hand, these elegiac and tender poems promise 'permanent day or never-ending night.' Buy this book, support this impressive outing: 'where I come from, it's also about the merchandise.'"
--- MICHAEL CHANG,  AUTHOR OF ALMANAC OF USELESS TALENTS
"Nicole Tallman is a poet looking for the truth."
--- ALEX DIMITROV, AUTHOR OF LOVE AND OTHER POEMS
"
Nicole Tallman writes poems for everyone and to everything. Her clear and concise diction in
Poems for the People
can be both comforting and cutting (sometimes within the same poem). This deft balance permits the poems to honestly explore topics as wide ranging as love, family and death, to witches, fast food and pop culture, and all without sacrificing their emotional power. Often in language, what is put most plainly is closest to the truth, and Tallman's poetics play within the logics of this axiom, conjuring a surplus of meaning through enchantments of common speech. The poet and lover of poetry will certainly find much to admire in this book, but
Poems for the People
is (as the title suggests) for all people; so a special warning to those who claim to be resistant to the power of poetry: beware Given over to the spells of Tallman's lyricism, incisive wit and capacious spirit, you may find yourself not only reading her poetry, but praying along with it."
--- ADRIAN DALLAS FRANDLE
"I love these poems. I love that they are clear and generous gifts for real people, even while Tallman is creating art in her own wild, unique, and powerful way-a way, thankfully, that never excludes the people, the reader, that ultra-private curious audience of one who will pick up this book and find a poem that has been written just for them. P.S. On a personal note, future readers, I found myself in many many of these poems, but the one that seemed written just for me is 'Poem for the Introverts.' Which one did she write for you?"
--- MAUREEN SEATON, AUTHOR OF UNDERSEA