We Didn't Fight for Socialism: America's Veterans Speak Up (Hardcover)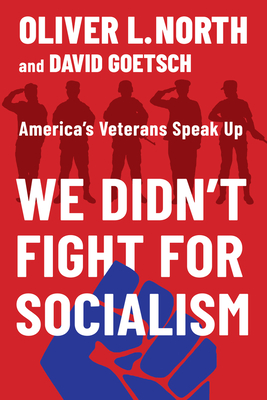 $26.00

Usually Ships in 1-5 Days
Description
---
As seen on Hannity

"We Didn't Fight for Socialism brings many powerful voices to bear against America's greatest threat. I spent nearly forty years opposing foreign enemies only to realize freedom's adversaries have been raised right here. My friends Ollie North and David Goetsch have delivered what may be the most important book you'll read this year." — LTG William G. "Jerry" Boykin – U.S. Army (Ret.), executive director of Family Research Council and author of Man to Man.

Veterans we interviewed and surveyed for this book as well as veterans we have talked to over the years made it clear they did not join the military to fight for socialism. Many of the veterans interviewed and surveyed for this book said they served in the military because they loved the freedom and opportunity afforded them by our country as well as the values that have long characterized America. To them, America has always been the good guy in the community of nations. A socialist America, in the eyes of these veterans, will no longer be a good guy.
About the Author
---
Oliver North is a combat decorated U.S. Marine, founder of a small business, and holder of three U.S. patents. For seventeen years he was a syndicated columnist and host of "War Stories" on FOX News Channel. North has authored nineteen best-selling books and is co-founder of Freedom Alliance. North says his greatest achievement is being, "the God-fearing husband of one, father of four, and grandfather of eighteen."

David Goetsch is a Marine Corps veteran and member of the Florida Veteran's Hall of Fame (Class of 2016). Dr. Goetsch is a professor of business, Christian counselor, and author of seventy-six books. Several of his books are best-sellers that have been translated into various foreign languages.
Praise For…
---
"America would already be lost without the service and sacrifices made by the men and women of our armed forces. The veterans quoted and whose views are relayed here have a unique perspective on America and its values compared to other parts of the world. We Didn't Fight for Socialism is a critical book for our day." —Jim DeMint, former U.S. Senator and author of Conservative: Knowing What to Keep and Satan's Dare.
 

"One of the best lessons I've learned during my decades of leading in the military and private sector is how important it is to have unified purpose in the ranks. Unfortunately, America is more divided now than it has been since the 1860's. Once again, our military veterans lead the way to solving our national divide. We Didn't Fight for Socialism could bring our nation back together under the banner of freedom and prosperity." — MG John Gronski (USA, Ret), CEO of Leader Grove, LLC and the author of Iron-Sharpened Leadership.