Driftwood: Stories from the Margarita Road (Paperback)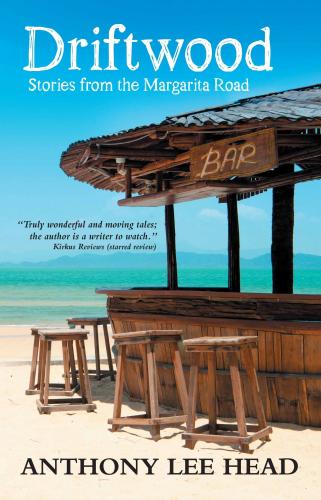 Description
---
A "BEST BOOKS OF 2020" WINNER KIRKUS REVIEWSWINNER "BEST FIRST BOOK 2021" INDIE REVIEW DISCOVERY AWARDS
If You've Ever Dreamed of Running Away to Paradise, Driftwood Will Spark Your Secret Wanderlust
This captivating book follows modern-day nomads escaping the rat race in search of a fresh start. Fleeing boredom, bad marriages, and dead-end jobs, these adventurers wander south to Playa Paraiso-a lush, unspoiled village on Mexico's idyllic Caribbean coast. There they find the unpredictable, hedonistic, and sometimes frightening world of the tropics.
At the center of this extraordinary group is Poppa, the irreverent and savvy owner of the local beach bar. As he tries to make sense of his own vagabond existence, he offers his fellow expats booze, advice, and the occasional helping hand. It is Poppa who tells the tales of these intriguing runaways, as together they encounter true loves, vicious drug dealers, charming rogues, clueless do-gooders, and a devastating hurricane.
Against a backdrop of stunning blue water and endless white sand, they experience the heart's tug of war between the need for a place to call home and the desire for the freedom to roam.
Author Anthony Lee Head is very familiar with the dream of living in paradise portrayed in Driftwood: Stories from the Margarita Road. After leaving a long career as a San Francisco trial lawyer, he moved to Playa del Carmen, Mexico where for ten years he and his wife ran a small hotel and margarita bar near the beach.
Travelers, wanderers, explorers, and dreamers alike will see themselves in these unforgettable characters, all the while craving an icy boat drink on a sprawling beach. But be careful: if you stick your feet in the sand and come along on this journey, you may not want to go home again.
"... Joseph Conrad collides with Jimmy Buffett in a journey through the dark heart of Mexico's Riviera Maya."
Bob Calhoun, bestselling author and journalist
"Truly wonderful and moving tales; the author is a writer to watch."
Kirkus Reviews (starred review)
"Beneath the 'palm and balmy breezes' tone, a deep, empathetic humanity affords each character and event vivid authenticity."
Peter Coyote, bestselling author and actor
About the Author
---
Before running away from home, Anthony Lee Head was a trial lawyer, history teacher, and martial arts instructor living in San Francisco. In a fit of middle-aged madness, Tony and his wife Cheri drove 3500 miles to begin a new life in Playa del Carmen, Mexico. There they bought a run-down hostel near the Caribbean Sea, which they transformed into an award-winning hotel and bar. Living in a white sand and blue water paradise, they rented rooms, poured drinks, ate tacos, blogged about their unconventional life, practiced their Spanglish, and navigated the endless challenges of living and working in a foreign land. After a decade of inhabiting the wonderfully strange world of expats, they returned to California, bringing with them a pack of rescue animals—four dogs and six cats. After settling just north of the Golden Gate Bridge, Tony began formal practice as an ordained lay Zen Buddhist, while beginning to indulge his inner storyteller. Driftwood: Stories from the Margarita Road is his first book. He is currently working on both a new novel and a memoir based on his adventures in Mexico.
Praise For…
---
"In Driftwood, Joseph Conrad collides with Jimmy Buffett in a journey through the dark heart of Mexico's Riviera Maya. Weaving together the tales of American expats fleeing their mundane lives in the States for crystal-blue Caribbean water—and far too many pitchers of margaritas—author Anthony Lee Head makes it all so real because he has lived that life."
~ Bob Calhoun, bestselling author

Anthony Lee Head's delightful book Driftwood … snuck up on me like a stealthy lover, seized me and carried me away on every page. Life in Mexico is perceived with a sense of compassion and clarity. Don't miss it."
~ Peter Coyote, author, actor, Emmy award winner

"As someone with an innate wanderlust and many extended years in faraway lands, this book completely transported me into the notion of, "what if I REALLY stayed? The romance and repose of an idyllic beach, the camaraderie with fellow expats, the complexities of leaving all things familiar—and the harsh truths of living in the third world. These captivating characters, on their Margarita Road, intimately escorted me beyond my own return flights. Great read."
~ Adam Briles, producer/director of Survivor

"The setting for these sunlit, beguiling stories is Playa Paraiso, a Mexican beach town not yet overrun by high-rise resorts and franchise restaurants, and its characters are the wide range of people who come there seeking an earthly paradise. These tales of human foibles range from funny to touching, memorable to unforgettable."
~ Cyra McFadden, bestselling author

"This debut collection of short stories features an exotic location populated by believable people … Some stories are humorous; some are poignant; some defy description … There are also "Margaritaville"-type reflections and paeans to life off the middleclass, money-grubbing grid … The author is at his best with tales that may be rooted in the local milieu but are really universal. Truly wonderful and moving tales; the author is a writer to watch."
~ Kirkus Reviews (starred review)

"Steering the scene somewhere between Jimmy Buffett and John Steinbeck, Driftwood: Stories from the Margarita Road hums with hardscrabble characters washed up on a Mexican beach and the wisdom found at the bottom of a glass. More than a story…a piece of life."
~ Joel Selvin, bestselling author and award-winning journalist