The Rare, Tiny Flower: (Picture Books about Peace, Kindness Kids Books) (Hardcover)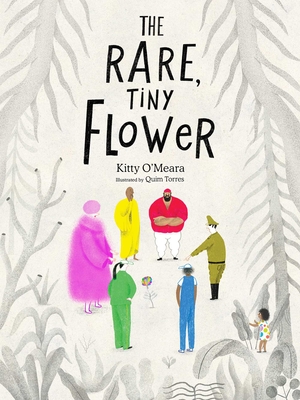 Description
---
* 2022 NYC BIG BOOK AWARD WINNER * 2022 WORLD ILLUSTRATION AWARDS SHORTLIST

"Kitty O'Meara's The Rare, Tiny Flower, illustrated by Quim Torres, relies on metaphor to introduce children to the often trivial reasons for war." —The New York Times

"Kitty O'Meara is the poet laureate of the pandemic"—The Observer

"The Rare Tiny Flower speaks to both adults and children." –10thirtysix, Milwaukee PBS

This timely and timeless tale by Kitty O'Meara, like her best-selling book about the pandemic, And the People Stayed Home, offers wisdom relevant to difficult current situations and provides hope for resolution and growth.



The Rare, Tiny Flower is a beautifully produced picture book that explores themes of difference, divisiveness, tolerance, and unity as well as the agency of children through a thoughtful parable told in rhyming verse and accompanied by deeply felt illustrations.

This rhyming poem features a mysterious flower in the midst of a forest that appears as a different color to each viewer, which leads to escalating strife as everyone insists that their vision is "right." World leaders and even botanists are unable to agree on the nature of the flower, and declare war as a way to resolve the conflict. It takes the vision and bravery of a young girl to point out that the flower is, in fact, quite multi-dimensional. Remarkably, she has the ability to be heard by the squabbling masses, who then see beyond their fighting and begin to rebuild bridges of communication and commit to connecting with one another and respecting varying points of view.

Kitty O'Meara's thoughtful poem includes people realizing and voicing this important lesson:

"Maybe there are
other colors to see;
what's lovely to you
could be lovely to me."

O'Meara is the author of a bestselling book about the pandemic, And the People Stayed Home, based on her poem that went viral. The Rare, Tiny Flower also speaks to current world events as well as truths about human nature. O'Meara's wise words are paired with evocative illustrations by Quim Torres.


About the Author
---
Kitty O'Meara lives near Madison, Wisconsin, with her husband, Phillip Hagedorn, their five rescue dogs, two cats, gardens, and books. Formerly a middle school writing and literature teacher and hospital and hospice chaplain, she is currently a spiritual director and has been a lifelong writer and artist. She has been called "the poet laureate of the pandemic" based on her wildly popular, widely circulated, and hopeful poem about the Covid-19 pandemic. That poem is illustrated and presented in book form in the bestselling And the People Stayed Home, published by Tra Publishing. She is also the author of The Rare, Tiny Flower (Tra Publishing, 2021).

PRAISE FOR KITTY O'MEARA

"Kitty O'Meara is the poet laureate of the pandemic. . . . The poem has become shorthand for a silver-linings perspective during the coronavirus outbreak."—O, The Oprah Magazine

"A communal beacon of hope."—The Washington Post

"She is challenging us to grow—to look inside, to listen deeply, to allow ourselves to think differently, and ultimately, to create new ways of living on the planet."—Deepak Chopra, MD, author, Metahuman

"A stunning and peaceful offering of introspection and hope…"—The Children's Book Review

"O'Meara's words come to life for future generations to…encourage everyone to find silver linings, think differently and never lose hope."—B&N Reads

"She has given the world a small piece of joy."—BookTrib

Quim Torres is an award-winning illustrator and author based in Barcelona. He has illustrated several children's books, including the recent Tra Publishing titles Sweet People Are Everywhere by Alice Walker and The Rare, Tiny Flower by Kitty O'Meara (both 2021). He has studied art as healing and Gestalt psychology, and he teaches workshops in which drawing becomes a means of self-discovery. He believes that people are made of stories, and he hopes his drawings inspire others to share their tales. He feels that art is a healing force.
Praise For…
---
"Kitty O'Meara's The Rare, Tiny Flower, illustrated by Quim Torres, relies on metaphor to introduce children to the often trivial reasons for war."
— The New York Times

"The Rare Tiny Flower was created to speak about our need to listen to each other more, respect others' opinions and just be better humans. The book speaks to both adults and children."
— 10thirtysix, Milwaukee PBS