Color Me Canine (Toy Group): A Coloring Book for Dog Owners of All Ages (Paperback)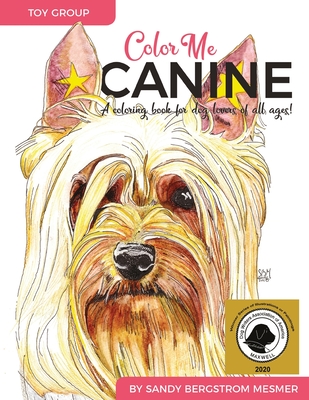 $13.99

Usually Ships in 1-5 Days
Description
---
In these uncertain times, it can be very soothing to just sit and draw.
But this must be the strangest coloring book you have ever picked up.
First, I am a real artist, the kind that wins awards. These coloring pages are all drawn by me, personally. They are realistic but with a whimsical edge. Color Me Canine (Toy Group) took a 2020 Maxwell, the award of the Dog Writer's Association of America.
Because you sometimes change your mind or even mess up - and sometimes your kids scribble on your stuff, there will be two copies of each breed's coloring page.
Which brings us to the descriptions. I just told you that I'm a working artist - but I've also written dog breed books, published dog books and bred my own Silky Terriers for the last coming up on 40 years producing over 120 AKC champions. So, I can speak with authority about dog breeds.
I have lots and lots of friends, on social media and off. I've been asking everyone to describe to me their breed in three words. So, you'll not only get my opinion but all my expert friends' opinions as well.
If you like coloring realistic drawings with just a bit of extra, I promise you will have fun with this book. For example, every coloring page has the breed name handwritten in the picture somewhere. I challenge you to find each one
If you are looking for your next canine buddy, or you just like oohing and ahhing over all the cool dogs, this book is for you.
The plan is to have eight coloring books: one each for each American Kennel Club Group - namely the Sporting, Hound, Working, Terrier, Non-Sporting, Toy, Herding and Miscellaneous Groups.
Whew I better get busy.
Sandy Bergstrom Mesmer