Brain Weaver: Creating the Fabric for a Healthy Mind through Integrative Medicine (Hardcover)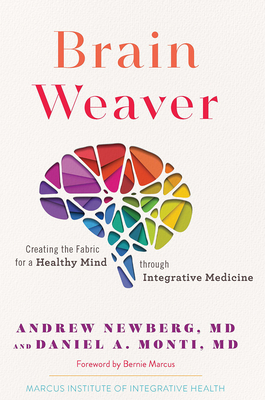 Description
---
Though adult cognitive development has previously been thought to be unyielding and static, Brain Weaver offers new hope and empowerment to remain mentally vibrant for a lifetime.
Doctors Newberg and Monti's team at
Thomas Jefferson University's Marcus Institute of Integrative Health
are at the forefront of research in brain functioning and applications of the most advanced understanding in real-world strategies to expand options for optimizing our complex neurophysiology.
Their findings show that optimal brain health is achievable by successfully weaving together a tapestry of our bio-psycho-social-spiritual dimensions. Brain Weaver also coincides with a decades-long surge in the public's interest in whole-person treatments—body, mind and spirit evidence-based integrative therapies that include pharmaceuticals, electromagnetics, nutrition and meditation.
Brain Weaver
's timeliness is all the more important now to address a new paradigm for post-pandemic wellness that emphasizes our individual and collective responsibility for proactive healthcare
About the Author
---
Andrew B. Newberg, MD is the Research Director at the Marcus Institute of Integrative Health, and a Professor in the department of Integrative Medicine and Nutritional Sciences at Thomas Jefferson University. His research involves the use of diet and nutrition, supplements and natural products, meditation, acupuncture, and other mind-body interventions for diseases including head injury/concussion, Parkinson's disease, and inflammatory disorders. Dr. Newberg has published over 200 peer-reviewed articles and chapters on Integrative Medicine, brain function, brain imaging, and the study of spirituality and health. He is also the author of eight books including the national bestseller How God Changes Your Brain and is regarded as one of the most influential neuroscientists alive today. His media appearances include Good Morning America, The Dr. Oz Show, the National Geographic Channel, StarTalk with Neil deGrasse Tyson and NPR.

Daniel A. Monti, MD, MBA is Founding Director and CEO of the Marcus Institute of Integrative Health and founding Chair of the Department of Integrative Medicine and Nutritional Sciences, the first medical school department in the nation devoted to the field of Integrative Medicine, at the Sidney Kimmel Medical College of Thomas Jefferson University. He also is Professor in the departments of Psychiatry and Emergency Medicine. Dr. Monti's extensive research has focused on assessing promising mind-body interventions, understanding brain mechanisms of stress and emotional regulation, and testing natural molecules for therapeutic efficacy in nervous system diseases and cancer. He is author of dozens of scholarly papers and one popular press book, and editor of three textbooks.