Summer Bridge Essentials Spanish Backpack (Other)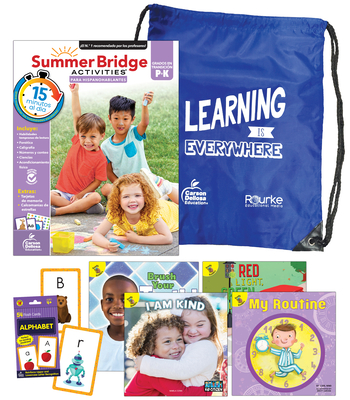 $34.95
Email or call for price
Description
---
Bridging Preschool to Kindergarten for bilingual or Spanish-speaking kids ages 4-5
Prevent summer learning loss and prepare your Spanish-speaking preschooler for back-to-school success in just 15 minutes a day with engaging summer learning activities, children's books, and fun games that help teach English--all in one bundle
Spanish Workbooks, Phonics Flash Cards, and Kid's Books are a great way for your Spanish-speaking preschooler to learn English and reinforce Spanish language learning through fun phonics, math, science, reading comprehension, and handwriting lessons that are both fun AND educational
Why You'll Love This Bilingual PreK & Kindergarten Learning Bundle
Engaging and educational preschool and kindergarten learning activities. Preschoolers can practice their English reading comprehension skills with the included children's books, as well as alphabet learning with the alphabet flash cards, also in English. Students reinforce preschool skills and prepare for kindergarten math, primary phonics, science, and more with the Summer Bridge Activities Prek-K Spanish Workbook which includes flash cards, stickers, and fun fitness activities
Bilingual Learning. Spanish instructions and lessons in the Spanish workbook for kids helps Spanish-speakers to work alongside their child, with English translations of vocabulary in parentheses where applicable for activities that help students learn English concepts. Activities pertaining to learning English are written in English with Spanish instruction. The flash cards and children's books are both in English.
On-The-Go Learning Fun. Each kindergarten learning resource is stored securely in the durable drawstring bag so your child can practice their math, phonics, science, and reading skills from just about anywhere Practice skills during long road trips, downtime during the summer, and more.
About Summer Bridge Activities
Award-winning Summer Bridge Activities(R) engage children's creativity and learning potential and keep kids mentally and physically active to prevent summer learning loss and pave the way for a successful new school year ahead.
The Summer Learning Bundle Contains:
Summer Bridge Activities PreK-K Spanish Workbook
Abc flash cards
2 Nonfiction and 2 Fiction Books
User Guide