The Software Revelation: What Computer Code Can Teach Us About Transcendence in a Post-Religious World (Hardcover)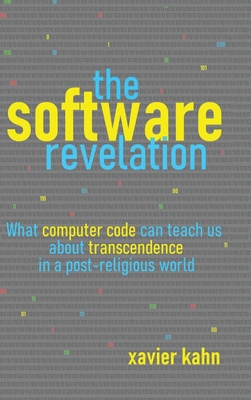 for information about purchasing this book, please contact orders@bookpassage.com
Description
---
Software is everywhere. Yet software doesn't exist. At least not in the way we typically think about things existing.
Starting from this simple truth, The Software Revelation takes you on a highly entertaining and thought-provoking journey through the questions people have been asking since the beginning of time about the world and about themselves. Expertly drawing on insights from computer science, philosophy, linguistics, physics, religion, and the arts, The Software Revelation helps readers of all backgrounds, education levels, and viewpoints clarify the ideas that form the foundation of their belief-systems.
The Software Revelation is also a great text to use as a teaching tool or for book discussion groups for those who want to delve into deeper waters without having to slog through the works of Kant, Derrida, and other key thinkers whose writing can be almost impossible for the average reader to get through.
About the Author
---
Xavier Kahn wrote his first line of computer code in 1973. He studied literature, philosophy, religion, anthropology, and physics at Yale during the heyday of deconstruction. Kahn then worked at AT&T Bell Laboratories, which at the time was one of the world's leading centers of technology innovation under the leadership of Nobel laureate Arno Penzias. Following his tenure at Bell Labs, Kahn's work as a consultant and journalist put him at the forefront of every major wave of digital transformation, from the Internet and cloud to machine learning and AI. Kahn has also served in leadership positions at multiple spiritual fellowships, ecumenical organizations, and online communities.