Laws of Wrath (Martyr Maker) (Paperback)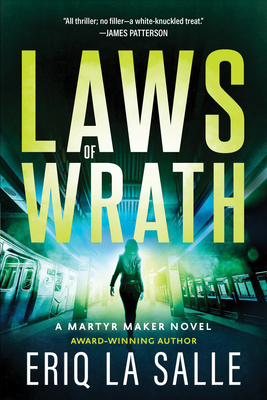 $16.99

Usually Ships in 1-5 Days
Description
---
"All thriller; no filler—a white knuckled treat." — James Patterson
"[A] nail-biter that never sacrifices character for plot." — Publishers Weekly
Actor, director, and producer turned thriller author, Eriq La Salle gives The Godfather an occult twist with Laws of Wrath, a gritty, lightning-paced thriller about two families trapped in brutal acts of loyalty and revenge.
There are those who fight the devil within them. And those who worship it.
NYPD detectives Phee Freeman and Quincy Cavanaugh are called to the scene of a brutal murder, where Freeman learns his older sibling is the victim. At first, the slaying looks like the random act of a vicious killer, but both detectives and FBI agent Janet Maclin soon discover this is something much more sinister. Similar ritualistic murders throughout the city leave the three investigators no choice but to join forces with Dr. Daria Zibik, a brilliant but deranged Satanic cult leader. Phee and his partners must do everything they can to stop the bloodshed and determine if the evil they are hunting and the psychopath they are trusting could actually be one and the same.
Praise for Laws of Wrath:
"A devilish thriller in which no one escapes the darkness." — Kirkus Reviews
"Penetrating and incisive…Laws of Wrath is outstanding fiction, with its basis firmly planted in the nonfictional evil man is capable of committing." —Lee Ashford, Readers' Favorite
About the Author
---
ERIQ LA SALLE is an actor, director, producer, and author best known to worldwide television audiences for his portrayal of the commanding Dr. Peter Benton in the award-winning, critically acclaimed medical drama, E.R. He was raised in Hartford, Connecticut, and educated at Juilliard and NYU's Tisch School of the Arts.
Praise For…
---
"Another nail-biter that never sacrifices character for plot...La Salle treads lurid territory without straining credulity. Fans of Jeffery Deaver will be pleased." — Publishers Weekly