The Ravenous Dead (Gravekeeper) (Paperback)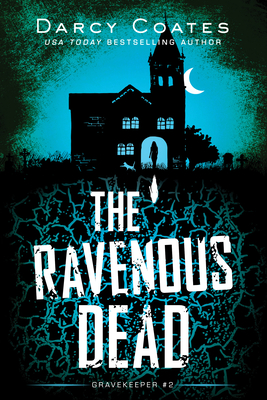 $14.99

Usually Ships in 1-5 Days
Other Books in Series
This is book number 2 in the Gravekeeper series.
Description
---
"Lovers of ghosts and ghouls will shiver with delight."—Kirkus Reviews
Keira, hired as Blighty Graveyard's new groundskeeper, lives surrounded by the dead. They watch her through the fog. They wordlessly cry out. They've been desperately waiting for help moving on—and only Keira can hear them. But not every restless spirit wants to be saved.
Sometimes the dead hate the living too much to find peace.
As Keira struggles to uncover the tangled histories of some of the graveyard's oldest denizens, danger seeps from the darkest edges of the forest. A vicious serial killer was interred among the trees decades before, his spirit twisted by his violent nature. He's furious. Ravenous. And when Keira unwittingly answers his call, she may just seal her fate as his final intended victim.
"The Whispering Dead was one of last year's little wonders, a horror novel with a surprising amount of humor and heart among all its terrors. This sequel continues Keira's quest to uncover her lost memories and bring peace to the spirits of the dead, but gives her a new enemy in the form of a ferocious ghost that refuses to go gently into that good night." —BookPage, 2022 Most Anticipated Sci-Fi Fantasy
Horror Novels By Darcy Coates:
The Haunting of Leigh Harker
The Haunting of Ashburn House
The House Next Door
Carrow Haunt
Craven Manor
Voices in the Snow
About the Author
---
Darcy Coates is the USA Today bestselling author of Hunted, The Haunting of Ashburn House, Craven Manor, and more than a dozen horror and suspense titles. She lives on the Central Coast of Australia with her family, cats, and a garden full of herbs and vegetables. Darcy loves forests, especially old-growth forests where the trees dwarf anyone who steps between them. Wherever she lives, she tries to have a mountain range close by.
Praise For…
---
"Lovers of ghosts and ghouls will shiver with delight.
" — Kirkus Reviews
"Darcy Coates has created interesting, clean characters that are relatable. Keira and her gang will appeal to all ages, from teens to any age. This series is a brilliant choice because…[it's] a very fun read!" — Mystery and Suspense Magazine
"The Whispering Dead was one of last year's little wonders, a horror novel with a surprising amount of humor and heart among all its terrors. This sequel continues Keira's quest to uncover her lost memories and bring peace to the spirits of the dead, but gives her a new enemy in the form of a ferocious ghost that refuses to go gently into that good night." — BookPage, 2022 Most Anticipated Sci-Fi Fantasy
"Coates's follow up to The Whispering Dead takes readers on a spooky thrill ride that continues the adventures of "Keira," …[This is] an intriguing episode in its own right, while also keeping up the series' momentum. This bodes well for future installments." — Publishers Weekly